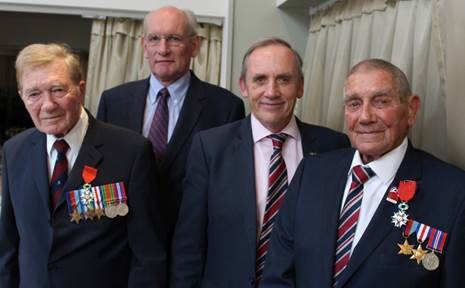 Two Second World War blind veterans from Dorset were formally presented with the Chevalier de l'Ordre National de la Légion D'Honneur yesterday for their part in the liberation of France.
Peter Oliver, 89 from Bournemouth, and Edward Gaines, 92 from Poole, were presented with the prestigious honour by Capt. Francois Jean, the Honorary French Consul, on behalf of French president Emmanuel Macron, they were the first D-Day veterans to receive the honour on behalf of France's new president.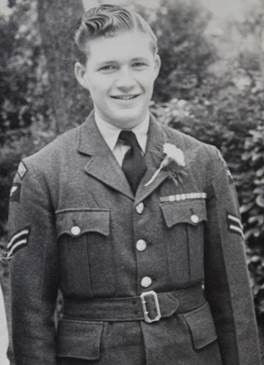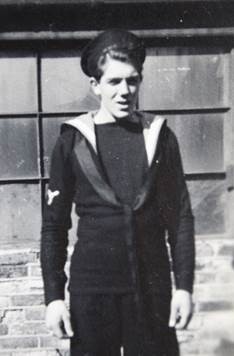 The special ceremony took place at a reunion lunch held in Christchurch and organised by Blind Veterans UK, the national charity for blind and vision-impaired ex-Service men and women, from whom they both receive support.
Edward said: "I am hugely honoured to be presented with this medal. I feel that we both are receiving it on behalf of all of those who didn't make it back. I was off Omaha Beach on D-Day and 3,000 men died there before noon alone."
Peter added: "When I found out I was to receive the Légion D'Honneur I was surprised and elated. I want to thank Blind Veterans UK for helping to arrange this presentation and being there with another blind veteran did make it extra special."
Edward Gaines left school at 16 and took up an engineer's apprenticeship. A bomb blast destroyed the firm where he was studying, ending his apprenticeship and he joined the Royal Navy in 1943.
After initially training on Motor Gun Boats at Portland, Edward transferred to become a petrol stoker on landing craft. He and the other four crew of his Landing Barge Vehicle set off from Poole on June 4 in preparation for the Allied invasion of France. The Landing Barge Vehicle was initially transporting 35 tonnes of TNT and a bulldozer and they landed at Omaha Beach on D-Day.
They continued to work on Omaha Beach, transporting ammunition, equipment and men, for several months and he served in Normandy until Christmas Eve 1944.
Peter Oliver grew up in Southampton and joined the Merchant Navy at just 15.  He was on the Admiralty Salvage Vessel 'Help' off Omaha and Utah beaches on 6 June 1944, D-Day. It was their responsibility to maintain clearance to the approaches to the beaches.
'Help' was the first British vessel to enter a French port following the allied invasion. Peter, who had only recently turned 16 before D-Day, landed at Cherbourg and he and the rest of the crew of 'Help' were tasked with clearing the harbour of scuttled German vessels and mines.
On leaving the Merchant Navy Peter was called up for his National Service and went on to serve as a Corporal Gunnery Instructor in the Royal Air Force RAF Regiment.
Both men started receiving support from Blind Veterans UK last year after losing their sight much later in life due to age-related macular degeneration, a leading cause of sight loss in older people.
Peter was referred to the charity through his local eye clinic whilst Edward was told about Blind Veterans UK after attending an exhibition at Poole library. Both men have since received support, training and equipment to allow them to continue to live as independently as possible.
Peter says: "I was invited to their Brighton centre for an introduction week and it was hugely appreciated. We were introduced to lots of activities – I won the rifle shooting! Since then the charity has provided me with an adapted telephone and, very recently, an electronic reader, which will be a great help.
"My partner and I also made two great friends there and have stayed in touch with them since."
Edward says: "I am over the moon that the man at the library gave me the card for Blind Veterans UK and told me to get in touch. I came away from my first visit to their Brighton centre a new man.
"They have given me a special reader that magnifies documents to a huge size. It has allowed me to still look after my own correspondence. I've also recently started learning how to use a tablet computer. The last time I visited I asked if I could have a Blind Veterans UK flag so I could literally 'fly the flag' for the organisation outside my house!"
Blind Veterans UK was founded in 1915 and the charity's initial purpose was to help and support soldiers blinded in the First World War. But the organisation has gone on to support more than 35,000 blind veterans and their families, spanning WWII to recent conflicts including Iraq and Afghanistan.
For more than a century, the charity has been providing vital free training, rehabilitation, equipment and emotional support to blind and vision-impaired veterans no matter when they served or how they lost their sight. If you, or someone you know, served in the Armed Forces, including National Service, and is now battling severe sight loss, find out how Blind Veterans UK could help by calling 0800 389 7979 or visiting noonealone.org.uk.
ENDS
High res images available on request
For all media enquiries please contact: Mark Wheeler, PR Manager, Blind Veterans UK, 12 – 14 Harcourt Street, London, W1H 4HD, E: mark.wheeler@blindveterans.org.uk, T: 020 7616 7980
Notes to Editor
Blind Veterans UK
Blind Veterans UK is a national charity that believes that no-one who has served our country should have to battle blindness alone. Founded in 1915, the charity provides blind and vision impaired ex-Service men and women with lifelong support including welfare support, rehabilitation, training, residential and respite care.
Find out more at: blindveterans.org.uk, follow us on Facebook at: facebook.com/blindveteransuk and on Twitter at: twitter.com/blindveterans.