Two women from Wiltshire completed the virtual London Marathon on Sunday 4 October in order to raise funds for Blind Veterans UK.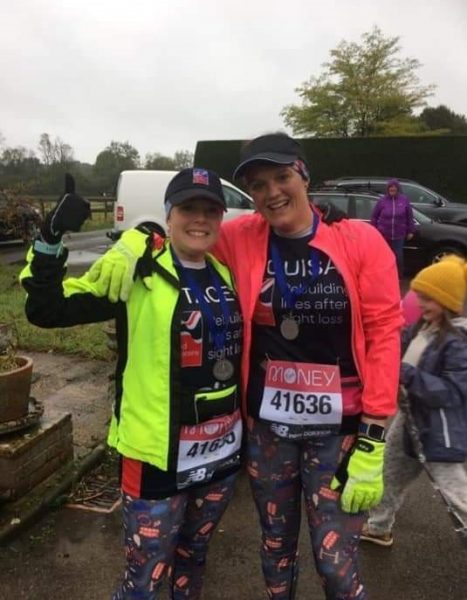 Louisa Tatton-Bennett, 40 and from Bromham, ran six laps of her local village to make up the 26.2 miles with her friend Stacey Wall. Louisa, who has worked for the charity since April 2017, says:
"We were originally going to run the London Marathon this year for its 40th anniversary and for my 40th birthday". In my role at the charity, I am inspired by the veterans we support every day. I know the importance of fundraising and how it can really make a difference. Stacey has heard about everything the charity does through me and felt passionate to run jointly to extend the life changing support provided by the charity". 
Unfortunately due to the COVID-19 pandemic, the London Marathon could not go ahead for the vast majority of runners so the decision was made to make it virtual for the first time ever. Up to 45,000 runners were invited to take part and were given 23 hours 59 minutes and 59 seconds to complete the 26.2 miles. Louisa says:
"We were only told seven and a half weeks before that the virtual marathon was happening so we didn't have very long to train and we should have completed at the least 16 weeks of training, but we love a challenge! We were determined to end 2020 on a positive note and for such a wonderful charity".
Louisa and Stacey both started running together about five years ago and have completed many smaller running challenges over the years, building up their stamina for the marathon, which was something neither of them ever envisaged they would do. Louisa says:
"We couldn't even run for 5 minutes without stopping initially! We started off doing the Couch to 5k challenge and now five years later we've done a marathon! We really couldn't have done it without each other and this meant so much to both of us for so many reasons. We ran each mile for Blind Veterans UK members as well as for those special people in our lives and sadly in memory of those we have lost".
On the day of the marathon, Louisa and Stacey were cheered on by their friends and family. Louisa says:
"Everyone came out to support us and cheered us on at a social distance. It rained for two days before and throughout the entire race. We dodged floods, with detours over cabbage fields and up onto verges!  It was the most enduring physical challenge we have ever done but also the most wonderful experience and truly meant so much to us for so many reasons, and the support we have had has been utterly overwhelming".
So far Louisa and Stacey have raised over £5000 for Blind Veterans UK. If you are in a position to support them raise additional funds to extend the work of the charity, their fundraising page is: justgiving.com/London2020StaceyLouisa