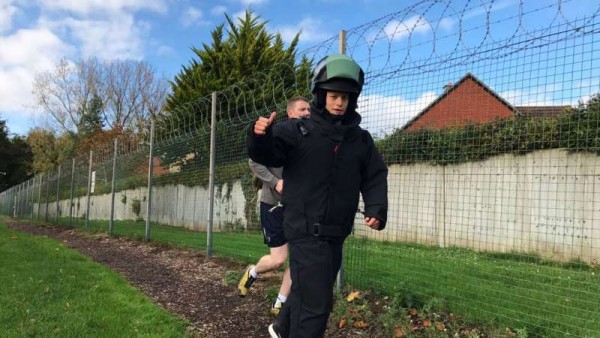 For many of us running a half marathon in shorts and a running top would not be easy. Imagine running it in full bomb suit, with helmet!
This is exactly what Capt Mark Gibbs, a trainee Ammunition Technical Officer (ATO) is doing at the Bath Half Marathon. Not only that he is attempting to beat the current World Record all in aid of Felix Fund – the bomb disposal charity.
Capt Gibbs "The suit weighs 55lbs and the helmet is an extra 10lbs and to get the World Record you need to wear both. The biggest problem we have had is the lack of heat dissipation in the suit. It gets rather hot in there."
Capt Gibbs will be supported by the men and women from his course at Shrivenham, who have been training with him since before Christmas. Mark has already broken the record for the fastest mile in the bomb suit and is now listed on the Guinness World Record website.
Melanie Moughton, CEO of Felix Fund "When Mark first told me what he intended to do I didn't quite believe it. He and the team have been dedicated to this challenge for many months now. It is not just about the training and the world records but about raising funds and awareness for Felix Fund. All this on top of the intensive training they are undergoing on the ATO course."
Please support this fantastic endeavor at their Just Giving page: https://www.justgiving.com/fundraising/58-ato.
Notes to Editors
About the Felix Fund
The aim of Felix Fund is to help personnel from any military or police unit who have been involved with EOD and Search duties. We provide welfare support and financial assistance to this unique group of men and women from the British Army, Royal Navy and Royal Air Force as well as the Metropolitan Police Counter Terror Unit.
Felix Fund is a Registered Charity, No. 1142494
For further press information, please contact: Melanie Moughton CEO at Felix Fund – The Bomb Disposal Charity: www.felixfund.org.uk 07713 752901 or melanie@felixfund.org.uk