A ground-breaking service that is providing life-changing support to thousands of older veterans in Scotland has been recognised for its continued commitment to the Armed Forces community after picking up a prestigious award in London last week.
The Unforgotten Forces consortium, which was launched 18 months ago and is made up of 16 diverse organisations from across the sector and beyond, lifted the 'Working Together Award' at the 2019 Soldiering On Awards at a star-studded event at the Westminster Bridge Park Plaza.
The Soldiering On Awards acknowledge and celebrate the dedication to the Armed Forces community across a variety of individuals and sectors, including businesses and charities as well as many ex-Service personnel and their families. Carol Vorderman, a passionate supporter of the Armed Forces, and ex-Serviceman JJ Chalmers, hosted the evening, with mezzo-soprano Carly Paoli performing classics such as Vera Lynn's We'll Meet Again.
Speaking on behalf of the Unforgotten Forces consortium, Mark Bibbey, Poppyscotland's Chief Executive, said:
"In just over a year there have been more than 6,000 instances of support for older veterans living in Scotland provided through the Unforgotten Forces consortium. Each of the 16 organisations involved offer enhanced services for older veterans, but it is perhaps the seamless referral pathways that now exist between the Unforgotten Forces members that provides the greatest benefit. An older veteran reaching out to one organisation means they are, in effect, reaching out to us all."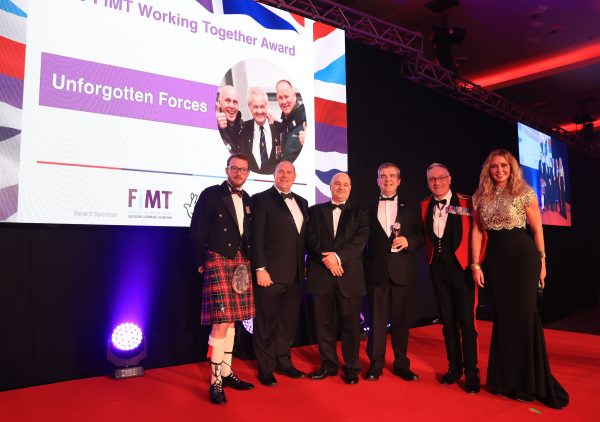 Mr Bibbey added:
"Poppyscotland is very proud to lead this ground-breaking collaboration. Collecting the Forces in Mind Trust (FiMT) 'Working Together Award' at the 2019 Soldiering On Awards represents a ringing endorsement of the approach we have taken and inspires us all to continue building on this remarkable early success."
The 'Working Together Award' was sponsored by the FiMT, and its Chief Executive, Ray Lock, said:
"We are delighted to see Unforgotten Forces win this year's award. We applaud the efforts of all three finalists; they have achieved great things for the Armed Forces Community. It's a shame there can only be one winner, but all finalists reflect the commitment to achieving through collaborative working. We continue to champion working together and hope others will be inspired to achieve together."
Launched in October 2017, the Unforgotten Forces consortium has delivered 6,000 instances of support for older veterans in the first 18 months of operation and offers assistance in areas including advice, access to healthcare, countering social isolation, respite and transport, along with creative activities and events for those in care settings.
The project has previously received praise from the Minister for Parliamentary Business and Veterans, Graeme Dey MSP, who said:
"This is an excellent project and I congratulate Unforgotten Forces for the support they are providing our older veterans. We must ensure they [our veterans] are able to access the best possible care, support and opportunities."
Notes to Editors
• For further information and all media enquiries, please contact David A. Findlay, PR Manager at Poppyscotland, on 079797 35611, or email at d.findlay@poppyscotland.org.uk.
• Photo caption: event host "JJ" Chalmers, former Royal Marine and television presenter; Hans Pung, Chairman of Forces in Mind Trust; David Gibson, Founder of Fares4Free, Gary Gray, Head of Welfare Services at Poppyscotland; Lieutenant General Richard Nugee, Chief of Defence People at the Ministry of Defence; and the event's other host, television's Carol Vorderman
• Unforgotten Forces is a partnership between the following organisations: Action on Hearing Loss Scotland; Age Scotland; ILM Highland; Citizens Advice Scotland; Defence Medical Welfare Service; Erskine; Fares4Free; Legion Scotland; Luminate; Music in Hospitals & Care Scotland; Poppyscotland; Royal Air Forces Association; Scottish Older People's Assembly; Scottish War Blinded; SSAFA; and the University of West of Scotland. Collectively, they have more than 1,000 years of experience in their respective fields. For further information on the Unforgotten Forces programme please visit: www.poppyscotland.org.uk/get-help/unforgotten-forces/.
• Poppyscotland provides life-changing support to the Armed Forces community. Money raised from the Scottish Poppy Appeal and Poppyscotland's year-round fundraising enables them to deliver support to members of the Armed Forces community in Scotland by providing tailored funding and assistance. The charity also funds services in advice, employment, housing, mental health, mobility and respite. Please note that the charity are known as "Poppyscotland", and not "PoppyScotland" or "Poppy Scotland". For more information, please visit: www.poppyscotland.org.uk.
• The Forces in Mind Trust (FiMT) came about from a partnership between the Big Lottery Fund ('the Fund'), Cobseo (The Confederation of Service Charities) and other charities and organisations. FiMT continues the Fund's long-standing legacy of support for veterans across the UK with an endowment of £35 million awarded in 2012. www.biglotteryfund.org.uk/.