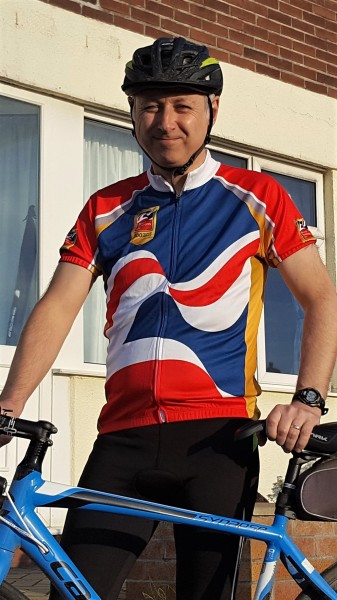 A veteran from Plymouth is set to compete in the Prudential Ride London-Surrey 100 for Blind Veterans UK, the national charity for vision-impaired ex-Service men and women that supports his father.
Andrew Whitby, 55, signed up to the epic 100-mile route after watching the acclaimed documentary, Fixing Dad. The heart-warming story, allied with Andrew's own passion for cycling, meant that the temptation was all too much to deny. He says: "The documentary was brilliant, incredibly heart-warming. I'm also a keen cyclist and have completed the Tour de Moor a few times, so it's got to the point where I'm thinking, 'right, what's the next challenge going to be then?'."
Andrew, who is also set to ride in the Dartmoor Classic in June, explains that the decision to compete on behalf of Blind Veterans UK came from his family connection to the organisation. He says: "My dad is also ex-navy and has very poor eyesight. Blind Veterans UK has done an awful lot for him since he began receiving their support. I was fortunate enough to accompany him to London a few years ago for the charity's centenary, it really was a fantastic occasion."
Andrew himself spent 22 years as a Weapons Engineer in the Royal Navy, leaving in 2005. He explains: "I travelled all around the world, visiting Australia a few times, North America, South America and the Mediterranean. It's something I'm certainly glad I didn't miss, I met a lot of great people."
For Andrew, who currently works as an Operations Manager for Blue Beards Revenge, a premium male grooming company, the focus will be on completing the course in one piece. He explains: "I'm a bit of a plodder if I'm honest! I don't really do speed. I'm aiming to finish within the eight and a half hours mark, but I won't be overdoing it! I had a look at the map the other day and, I have to say, it made me feel more than a little bit nervous once I saw just how long the journey is!"
For Andrew, however, who's currently training for about seven hours a week, the prospect of the 100-mile race is as daunting as it is exciting, and he's keen to encourage others to test themselves and support causes such as Blind Veterans UK. He says: "The charity really is an excellent cause and the support they provide to blind veterans hoping to regain their confidence and independence after sight loss is superb. It's definitely an issue on everyone's mind at the moment due to recent conflicts and there's no doubt they deserve all of our care. At the end of the day, they're the ones keeping us safe at night."
To support Andrew as he prepares to take on the mammoth challenge, please visit: justgiving.com/fundraising/Andrew-Whitby4.
The Prudential Ride London-Surrey 100 starts in the Queen Elizabeth Olympic Park, then follows a 100-mile route on closed roads through the capital and into Surrey's stunning countryside. The finish is along on The Mall in Central London.
You can sign up for one of our charity places for a registration fee of only £25 and a minimum sponsorship pledge of £450. To do so, click here: blindveterans.org.uk/what-you-can-do/events-calendar/prudential-ride-london-surrey-100.
Blind Veterans UK was founded in 1915 and the charity's initial purpose was to help and support soldiers blinded in WWI. But the organisation has gone on to support more than 35,000 blind veterans and their families, spanning WWII to recent conflicts including Iraq and Afghanistan.
For more than a century, the charity has been providing vital free training, rehabilitation, equipment and emotional support to blind and vision-impaired veterans no matter when they served or how they lost their sight. Visit blindveterans.org.uk/support to learn more about the charity and how you can support its vital work today.
For all media enquiries please contact: Felix Arbenz-Caines, PR Assistant, Blind Veterans UK, 12 – 14 Harcourt Street, London, W1H 4HD, E: Felix.Arbenz-Caines@blindveterans.org.uk, T: 020 7616 7941
Notes to Editor
Blind Veterans UK
Blind Veterans UK is a national charity that believes that no-one who has served our country should have to battle blindness alone. Founded in 1915, the charity provides blind and vision impaired ex-Service men and women with lifelong support including welfare support, rehabilitation, training, residential and respite care.
Find out more at: blindveterans.org.uk, follow us on Facebook at: facebook.com/blindveteransuk and on Twitter at: twitter.com/blindveterans.