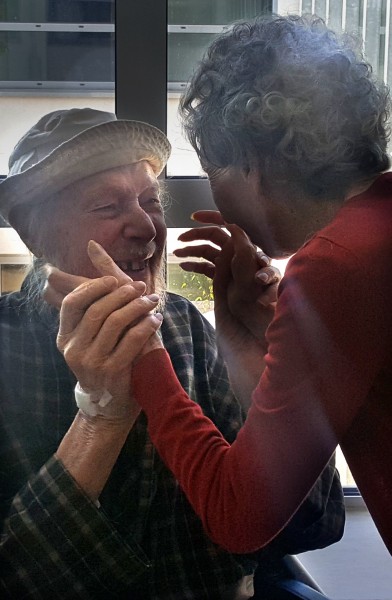 The Defence Medical Welfare Service (DMWS) organised for the wife of a 97 year old veteran to make a surprise visit to him in a Manchester hospital to celebrate their 75th wedding anniversary.
When DMWS Welfare Officer Karen Daniels met Mr Middleton for the first time in a Manchester Hospital in May 2017, he felt very low as he was missing his wife to whom he had been married for 75 years that month. The couple were hospitalised around the same time with health issues but had been living at home together independently prior to their admission. Due to their deteriorating health it was decide it would be best for them to live together in a care home. Firstly Mrs Middleton was discharged to a care home. Mr Middleton remained an inpatient whilst the discharge team tried to find a care home in which they could live together.
It was at this point that Karen met Mr Middleton. He spoke very fondly about his wife who he has always lived with and their two sons who are both in their 70's and live quite far away. The sons came as often as they could to pick up their mum and take her to see their dad in hospital. However, at the time of the anniversary they were unable to visit.
Knowing how much the couple thrived when being together, Karen offered DMWS's support. She spoke to the nursing home and ward staff and arranged transport and support services for an anniversary surprise visit. His reaction when they met was nothing short of incredible; Karen and the ward staff were really very moved.
Mr and Mrs Middleton had lunch and spent the afternoon together in the hospital.
Sadly Mrs Middleton passed away shortly after their anniversary, the day before they were due to be living together in the same care home.
DMWS is proud to have made a real difference to this wonderful couple.
ENDS
For more information about DMWS please visit www.dmws.org.uk
For further information on DMWS please contact Christine Pilbeam, Marketing and PR Manager on 01264 774 270 or email mfo@dmws.org.uk
About DMWS
DMWS are an independent charity which provides help and support to the Armed Forces Community and other frontline services when they are following a medical care pathway. Established in 1943, they are a professional welfare provider; who deliver a comprehensive impartial and confidential medical welfare service, directly at the point of need. DMWS are responsive to the needs of patients and families, their organisation and health care professionals.
Any hospital treatment whether planned or unplanned can be stressful and can bring with it feelings of isolation, stress and worry, all of which may hamper recovery.  DMWS's rich history of medical welfare ensures early intervention and assessment of patient needs outside of the clinical treatment pathway, allowing the health care providers to focus on their core work.