Older Armed Forces veterans gathered at an event this week to share their views on what's important to them – and now the outcome of these discussions will be shared with ministers later in the year. The event, which took place in Bathgate on Thursday 13 June, was hosted by the Scottish Older People's Assembly (SOPA), in partnership with the Unforgotten Forces consortium.
SOPA exists to give a strong voice to older people about their concerns and experience of life, raises issues about age inequalities and identifies issues that worry the older population. It conveys messages direct to the Scottish Government and supports policy that has a positive impact on challenges in later life.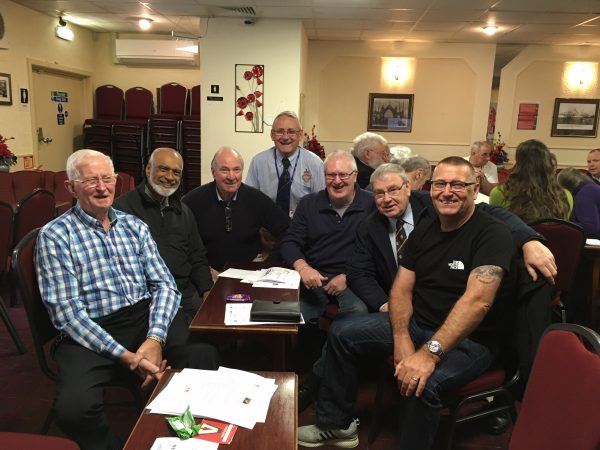 Among those in attendance was Jim Houghton, a Royal Navy Veteran, who said:
"It was good to have the opportunity to put our views forward as veterans. The event was very successful and helpful, and there was a great deal of information given to us about the services available for older veterans through Unforgotten Forces."
Ozzy, a veteran who served with the Argyll & Sutherland Highlanders, added:
"This was a great day – very informative, welcoming and professional. It was very good, and, to be honest, very much needed."
Unforgotten Forces is a partnership of 16 leading organisations which is delivering a range of new services and enhancements to older veterans and their families in areas including advice, access to healthcare, social isolation, respite, along with creative activities and events for those in care settings.
Glen MacDonald, Poppyscotland's Unforgotten Forces Co-ordinator, said:
"The Unforgotten Forces consortium is delighted to have jointly arranged and hosted this 'Voice of Veterans' engagement event along with its partner member the Scottish Older People's Assembly at the Legion Club in Bathgate.

"The event has been a great success and the whole focus has been to gather the views, concerns and opinions of a representative sample of Scotland's older veterans on a range of local and national issues of relevance and interest to them.

"In turn, their input will be used to feed SOPA's annual Scottish Parliamentary Assembly at Holyrood in October at which the matters raised will be debated and considered by MSPs as a contribution towards influencing government policy. This will be the first occasion on which the specific issues of relevance to older veterans will feature at this annual SOPA event."
Diana Findley, Chair of the Scottish Older People's Assembly, added:
"The Scottish Older People's Assembly was delighted to host this event in partnership with Unforgotten Forces. SOPA is arranging an annual assembly at the Scottish Parliament in October to ensure that the voices and experiences of older people are heard and acted upon by politicians and influencers. It is important that in the run-up to that event we engage with as many different voices as possible, and the event in Bathgate provided an opportunity for older veterans to share their views on what's important to them."
Veterans also heard a presentation about the success of Unforgotten Forces to date before a musician representing one of the consortium's partners, Music in Hospitals & Care, entertained the attendees with his voice and on the guitar.
Notes to Editors
For further information and all media enquiries, please contact David A. Findlay, PR Manager at Poppyscotland, on 079797 35611, or email at d.findlay@poppyscotland.org.uk.
For more information about the Scottish Older People's Assembly, please visit www.scotopa.org.uk.
The Unforgotten Forces consortium was awarded £4 million of Libor funding from the Ministry of Defence's Aged Veterans Fund to undertake this ambitious programme of work over a three-year period between 1st July 2017 and 30th June 2020. In its first 21 months of operating, it has already provided almost 7,300 instances of support to older veterans across Scotland.
Unforgotten Forces is a partnership between the following organisations: Action on Hearing Loss Scotland; Age Scotland; ILM Highland; Citizens Advice Scotland; Defence Medical Welfare Service; Erskine; Fares4Free; Legion Scotland; Luminate; Music in Hospitals & Care Scotland; Poppyscotland; Royal Air Forces Association; Scottish Older People's Assembly; Scottish War Blinded; SSAFA; and the University of West of Scotland. Collectively, they have more than 1,000 years of experience in their respective fields. For further information on the Unforgotten Forces programme please visit: www.poppyscotland.org.uk/get-help/unforgotten-forces/.
Poppyscotland provides life-changing support to the Armed Forces community. Money raised from the Scottish Poppy Appeal and Poppyscotland's year-round fundraising enables them to deliver support to members of the Armed Forces community in Scotland by providing tailored funding and assistance. The charity also funds services in advice, employment, housing, mental health, mobility and respite. Please note that we are known as "Poppyscotland", and not "PoppyScotland" or "Poppy Scotland". For more information, please visit us at: www.poppyscotland.org.uk.
Music in Hospitals & Care's project "Play it Again SAV" enables older veterans to design musical programmes full of their own personal choices. Professional musicians work with people living in designated care homes for retired service personnel to co-produce playlists which will ultimately be played live for them and for other audiences in the future. For more information, please visit https://mihc.org.uk/scotland/.