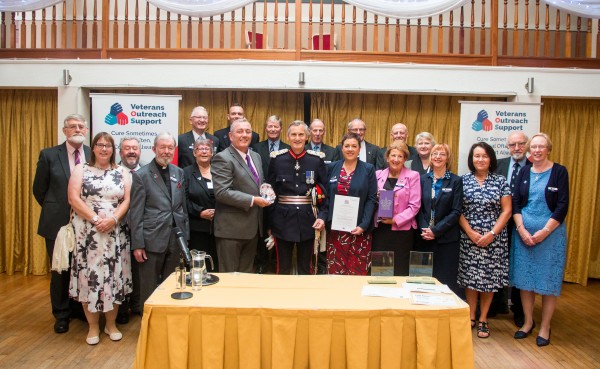 The Queen's Award for Voluntary Service is the highest award given to local volunteer groups across the UK to recognise outstanding work in their communities. It is considered to be the MBE for volunteer groups. The award was created in 2002 to celebrate the Queen's Golden Jubilee and winners are announced each year on 2 June– the anniversary of the Queen's Coronation.
Veterans Outreach Support (VOS) is a community-based group of volunteers that provide on the spot welfare, peer mentoring and mental health support to ex-service personnel from all three services and the merchant marine and their families. VOS has been honoured with the Queen's Award for Voluntary Service for 2017, the highest award a voluntary group can receive in the UK.
VOS runs a monthly drop-in at the Royal Maritime Club in Portsmouth, working alongside more than 20 delivery partners, many of them charities themselves, who provide the full range of general welfare support including help with employment, housing, debt and alcohol dependency.  Through their team of professional clinicians VOS also offers mental health triage, assessment and therapy, using proven evidence-based interventions.
VOS is one of 2 charities, social enterprises and voluntary groups in Hampshire to receive the prestigious award this year. The number of awards given to groups nationally this year is slightly higher than last year (193), showing that the voluntary sector is thriving and full of innovative ideas for addressing the needs of communities around the country.
VOS received the award from the Lord Lieutenant of Hampshire, Nigel Atkinson Esq, today, 3 October.  Back in the summer, VOS Volunteers Grahame Milner and Sandie Dixon represented VOS at a garden party at Buckingham Palace in the presence of HM the Queen with other winners of this year's award.
Chairman of Trustees, Peter Sharpe:
"This award was a direct result of the outstanding contribution, commitment and dedication of the VOS team, trustees, staff and volunteers.   It reflects extraordinary commitment, energy, initiative and professionalism in delivering a unique service to our veterans.  It also shows confidence in our future, that will be driven by increasing demand to which the Board of Trustees is determined to respond appropriately."
Chief Executive, Jon Watson MBE:
"Veterans Outreach Support is immensely proud to receive the Queen's Award for Voluntary Service in recognition of the hard work of our volunteers and staff, without whom we simply could not provide the range of services we offer. I would like to thank all those delivery partners who have worked so closely with us to support veterans and their families who find themselves in need of help."Notes to editors:
Lord Lieutenants are the monarch's representatives in their lieutenancy. There are 99 Lord Lieutenants who cover all areas of the UK.
This year there were 224 winners of The Queen's Award Voluntary Service from across the UK. More information on the winners can be found at the London Gazette https://www.thegazette.co.uk/
Any group of two or more people that has participated in voluntary work for more than three years can be nominated for the award. Full details on how to nominate are available at http://qavs.direct.gov.uk/ .