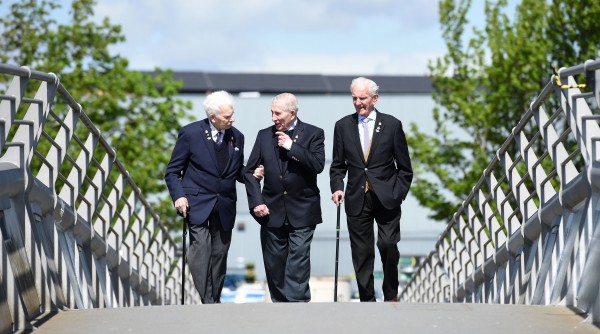 Three veterans in their nineties will travel to Wester Ross today to attend a special annual ceremony on Sunday to commemorate the Russian Arctic Convoys of the Second World War; an event that claimed 3,000 lives.
The trio, who are making the trip thanks to the Unforgotten Forces project which supports older veterans and their families in Scotland, have become close friends and will also enjoy a three-night stay at a hotel in Gairloch as part of a new "Break Away" service.
Germany invaded the Soviet Union in June 1941, which brought the Western Allies together to provide essential support and supplies to the Soviet forces. Chosen for its remote and isolated location, Loch Ewe, in the northwest Highlands, was the gathering point for many of the Arctic Convoys before they embarked on their perilous journey. The most direct route was by sea, around northern Norway to the Soviet ports of Murmansk and Archangel.
Between August 1941 and 1945, a total of 78 convoys travelled to and from northern Russia, taking four million tonnes of supplies to the Soviet forces, including 7,000 planes and 5,000 tanks. Tragically, more than 3,000 sailors and merchant seamen lost their lives on the convoys.
Sharon Higgins, Deputy Head of Welfare Services at Poppyscotland, said: "The route taken by the convoys was exceptionally dangerous, especially in winter, and conditions were among the worst faced by any Allied sailors during World War Two. In addition to battling the elements, many of the convoys were attacked by German submarines, aircraft and warships.
"No-one can underestimate the role played by the thousands of brave sailors who embarked on these perilous but pivotal missions. Now, more than 75 years on, Poppyscotland is delighted to be leading the Unforgotten Forces consortium as well as delivering the Break Away service in partnership with The Travel Company Edinburgh. Collaboration is at the heart of what we do, and the veterans visiting Loch Ewe are a terrific example of how bringing together services that are of benefit to these individuals can have such a positive impact.
"We owe so much to veterans such as these and it is a privilege to be able to provide them with the opportunity to return to what will be for them such a poignant location. We are very grateful to colleagues from Fares4Free, Defence Medical Welfare Service (DMWS) and others for their support in making the break happen."
The veterans are Bernard Roberts, 91, from Cardonald; James Docherty, 92, from Dalmarnock; and Edwin Leadbetter, 92, from Newton Mearns. Edwin – or "Eddie" – served on HMS Fencer, an escort aircraft carrier during the Second World War. He was on the Fencer when it joined an attack on the German battleship Tirpitz. Eddie spent more than a decade in the Royal Navy and is a recipient of both the Arctic Star and the Burma Star. Eddie suffers from Alzheimer's and lives with his daughter and carer, Liz McKenna He was referred to Fares4Free by Poppyscotland for support with essential journeys.
James will be making his first journey back to Loch Ewe since the Second World War. He talks of his time there and remembers when he looked at the ship next to him, only to see his neighbour from Dalmarnock, in Glasgow, looking back at him. "It's a small world!" he thought to himself. James is a recipient of the Arctic Star and the Ushakov Medal. He was referred to Fares4Free by the Consulate General of the Russian Federation in Edinburgh for assistance with essential travel.
Bernard – or "Barney" – served in the Royal Navy from 1942 and finished his service in 1947 on HMS Forth, in Rothesay, where he met his wife. It recently came to light that Barney spent time on mine-laying ships in the Arctic Circle and an application for the Arctic Star has been made. He has also received the Africa Star for his contributions in northern Africa.
A fourth veteran – Albert Lamond, aged 92, from Erskine – was also due to attend, but, unfortunately, is not well enough to do so. Albert, who attended the 75th anniversary of the first Arctic Convoy with Fares4Free in May last year, is a recipient of the Arctic Star, the Ushakov Medal and is a Chevalier de la Légion d'honneur for his service to France during the invasion in World War Two when his ship acted as an escort to Bombardment Force D of the Eastern Task Force.
Several wartime buildings, gun emplacements and anti-aircraft batteries still stand around the local landscape where the veterans are visiting. For that reason, Loch Ewe is the base for many commemorative activities, and The Russian Arctic Convoy Museum project set up a dedicated Exhibition Centre in the village of Aultbea last year.
Unforgotten Forces is a collaboration of 15 leading organisations led by Poppyscotland which is delivering a range of services and enhancements in areas including advice, access to healthcare, social isolation, respite and transport, along with creative activities and events for those in care settings. The consortium was awarded £4 million worth of funding from the Aged Veterans Fund.
Charity Fares4Free is a member of the collaboration and proved integral to making the break go ahead. Hugh Henderson, Fares4Free Chairman, said: "It is wonderful to see this special trip going ahead. James, Albert and Barney meet every week for afternoon tea at a centre for veterans in Glasgow, and, since the first coming together, all seem to have taken on a new lease of life. The group have become very close and I know how excited they all are at the prospect of their stay at the Gairloch Hotel. There may be other people out there in the same situation as these four friends and this is what Unforgotten Forces is all about. It's just a shame that Albert is unable to attend."
Defence Medical Welfare Service (DMWS) Welfare Officer Andy Riach, who is also going on the trip, said: "I am extremely proud to accompany a small group of Royal Navy veterans from the Russian Arctic Convoy missions to the 2018 commemoration. In my role as a Welfare Officer at DMWS, I have supported two veterans who have served on the convoys. I have seen first-hand what it means to them to remember the hardships and the lives lost at the time, and in the years since.
"Thanks to Poppyscotland's Break Away service this trip has enabled three veterans in their nineties to pay their respects. When you consider the tiny number of remaining veterans from this group, their age and what they had to endure during these arduous sailings, this is a really worthwhile project indeed."
ENDS…
Notes to editors
For further information and to arrange an interview, please contact David A. Findlay, PR Manager at Poppyscotland, on 0131 550 1580 or 079797 35611, or email at findlay@poppyscotland.org.uk.
Caption information: Bernard Roberts, Edwin Leadbetter and James Docherty.
For picture credit where possible: "M Owens/Poppyscotland"
The Break Away service is aimed at those who would benefit from a holiday, whether it's coping with ill health or bereavement, or for those who just need a change of scene and some new company. The service is available to older veterans, aged 65 years and over, with an accompanying partner or carer if they wish. Beneficiaries can go anywhere in the UK and each break will be tailored to meet the individual's circumstances and break preference, with many packages providing disability-access coaches, hotels and activities. For more information, please call 0131 550 1557, email breakaway@poppyscotland.org.uk, or visit: poppyscotland.org.uk/get-help/respite/break-away/.
The collaboration of 15 leading organisations is as follows: Action on Hearing Loss Scotland, Age Scotland, ILM Highland, Citizens Advice Scotland, Defence Medical Welfare Service, Erskine, Fares4Free, Legion Scotland, Luminate, Music in Hospitals & Care Scotland, Poppyscotland, Scottish Older People's Assembly, Scottish War Blinded, SSAFA and the University of West of Scotland. For further information on the Unforgotten Forces programme please visit: poppyscotland.org.uk/get-help/unforgotten-forces/.
Poppyscotland provides life-changing support to the Armed Forces community. Money raised from the Scottish Poppy Appeal and Poppyscotland's year-round fundraising enables them to deliver support to members of the Armed Forces community in Scotland by providing tailored funding and assistance. The charity also funds services in advice, employment, housing, mental health, mobility and respite. Please note that we are known as "Poppyscotland", and not "PoppyScotland" or "Poppy Scotland". For more information, please visit us at: poppyscotland.org.uk.
To get in touch with Fares4Free, please telephone 07708 299 399, email: info@fares4free.org, or visit fares4free.org.
The St John and Red Cross Defence Medical Welfare Service (DMWS) has been providing a person-centred medical welfare service to the Armed Forces Community since 1943. In that time we have supported more than 1,000 000 patients and their families, ensuring that no-one goes through the worry of injury and illness alone. Our highly trained welfare officers provide practical and emotional support to those receiving medical treatment. Recent new projects with organisations such as the police, the NHS and the probation service demonstrates the broad appeal of the organisation and its application to a wide set of frontline services. We are available 24 hours a day, 365 days a year. For further information on DMWS, please contact Christine Pilbeam, Marketing and PR Manager, on 01264 774 270, or email mfo@dmws.org.uk.
The Aged Veterans Fund funds projects that support non-core health, wellbeing and social care needs for older veterans (born before 1 January 1950), including surviving veterans of the Second World War, those who undertook National Service and other voluntary enlisted veterans who may need some focused support in relation to their health and social care needs.