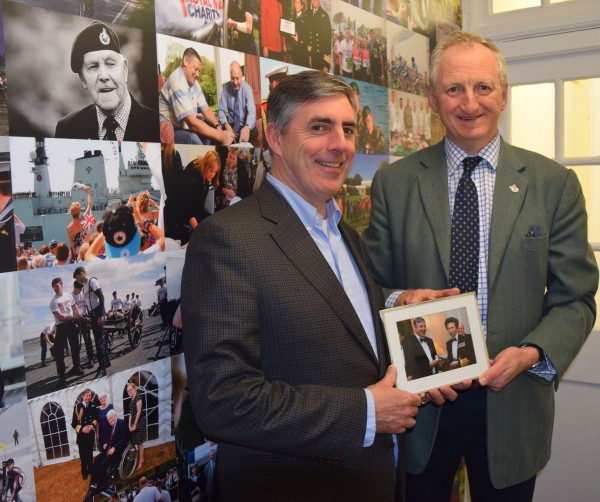 Staff at The Royal Navy and Royal Marines Charity (RNRMC) were delighted to recently spend time with their Vice Patron and major donor, Honorary Commander Lance Batchelor RNR.
Lance, who toured the charity's premises accompanied by his wife Wendy, is the CEO of Saga plc, the FTSE-listed provider of Insurance, Travel, Financial Services and Homecare to the over 50s.
As a former Royal Navy submariner, Lance and his family have a strong affiliation with the work of the charity and the projects, families and veterans it supports.
In the morning of their early February visit, he and Wendy were taken on tour of one of the Charity's latest projects: the Navy Mews, a group of newly renovated flats that serve as emergency accommodation for serving personnel to see their families.
Later they met with teams across the various Groups and departments that make up the RNRMC, including its Finance, Fundraising, Operations, Marketing and Communications, and Grants teams.
Francine Thompson, RNRMC Finance Officer: "It was so nice to meet Lance and Wendy. We normally work behind the scenes so don't often get the opportunity to interact with our trustees and supporters. It was a lovely afternoon learning more about why the Batchelors care about the work of the charity".
At the end of the visit, RNRMC CEO Robert Robson OBE presented Lance with a framed photograph of himself and the Charity's Patron, HRH The Princess Royal, from a recent dinner on board HMS Victory.
Alasdair Akass, Director of Marketing and Communications, said: "It's such a pleasure to host Lance and Wendy. It has been a great opportunity to give them a real insight into what we do in more detail, the challenges we face, and also learn more about who we are as a team."
Lance has previously held positions at Domino's Pizza, Tesco Mobile, Vodafone and Amazon.com. In late January he was confirmed as an Honorary Officer with the title of Honorary Commander Lance Batchelor RNR.