Commander Jane Allen, the Victory Walker, set off from HMS Victory on 21 October 2017, to walk anticlockwise round the coast of mainland UK raising money for two naval charities, the WRNS BT and RNRMC. After suffering a severe accident in February, she resumed her walk at the end of April.  In this final update she triumphantly returns to Portsmouth and wishes to thank all Cobseo members for their interest and support during her 22-month challenge.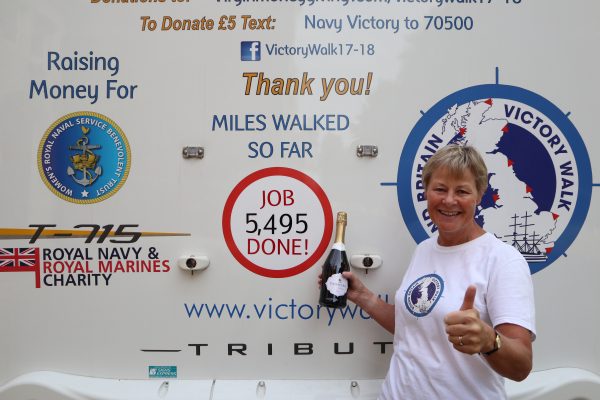 At the end of April I overcame my huge fear of stepping out again and completed the Pembrokeshire Coastal Path. Initially covering modest mileages and carrying a smaller rucksack, I began to rebuild confidence, fitness and stamina by slowly walking about 5 miles a day (instead on my usual 15 or so).  One of the biggest difficulties was maintaining a physio routine once back on the road but somehow, I managed.
By the late May Bank Holiday I finally completed my 722-mile walk around the Welsh coastline, heaved a sigh of relief and walked over the old Severn Crossing bridge back into England.  It wasn't long before I reached Minehead where I began tramping the South West Coast Path.
As expected, the North Coast of Somerset, Devon and then Cornwall proved to be tough walking. Numerous ups and downs, sometimes broken by stretches of long sandy beaches, thick woodland and a few flat bits in between!  Swathes of rain blew in from the Atlantic, later replaced by beating sun, blue skies and crystal-clear seas as I neared Land's End.
Surfers and lifeguards outnumbered walkers along a route scattered with Cornwall's industrial past: old slate quarries, capped mineshafts, derelict engine houses and mounds of spoil from long closed tin and copper mines were fascinating to ramble through. Meanwhile, the modern 'industries' of celebrity-created fish and chips, vast pasty shops and ice cream parlours were all doing a brisk trade.
After the long Taw and Torridge estuaries in North Devon, crossing rivers and inlets became far easier.  As I progressed deeper into Cornwall and back into South Devon, I was blessed with numerous summer passenger ferries.  This was my reward for walking up and round so many estuaries at the start of the Victory Walk
Rounding Land's End was a wonderful moment, knowing I'd walked from John o' Groats, not via the most direct route, but instead via the wiggliest route possible. To get there I'd tramped 2,955 miles across the top of Scotland, then southwards down the entire western coast of mainland UK. Leaving Cornwall's 'landmark attraction' behind me, the terrain was slightly less arduous than before, with the coastline regularly punctuated by tiny coves, small fishing harbours and the larger port of Falmouth.
Determined to visit all Naval establishments before they went on summer leave, I began my gallop along the south Cornish coast, with my first stop being RNAS Culdrose.  Progressing eastwards I 'ticked-off' significant headlands, beginning with Lizard Point, the UK mainland's most southerly spot. This completed my collection of the mainland's four cardinal points.
Reaching Plymouth there was a rush of Naval visits (HMS Raleigh, Vivid and Drake) supplemented by an afternoon at Devonport's Naval Heritage Centre.  Here I met an assortment of veterans who we joined for an afternoon tea during which I received yet more donations for the Victory Walk coffers.   But there was little time to relax as I'd more ferries to catch, a dusty path to be walked and Start Point lighthouse to be reached.  My childhood was spent in this area and it was special to be back.
No sooner had I reached nearby Britannia Royal Naval College, it was time for me to set off again bound for my last visit at Commando Training Centre, Royal Marines. Bright sunshine at Brixham's Berry Head allowed me to see nearby Torbay and beyond. Ahead lay East Devon's vast sweep of red and white cliffs; the full Jurassic coast yawned before me and in the distance I saw my next target, Portland Bill.
Before starting the Jurassic coast from Exmouth, I had a superb day with 'Royal' at CTCRM and we came away with generous donations and lots of 'good luck' cries for my last push to Portsmouth.  While military Units went on leave, I again had to put my head down through more spells of awful weather as I walked the strenuous hilly switchback heading to Portland.
Tough walking followed as I began my final push through Dorset's holiday towns of Weymouth and Swanage and out towards Studland at Poole's harbour mouth.  Across the water The Needles dazzled me from the Isle of Wight – good news!  However, bad news followed when I learned that the Sandbanks ferry to Bournemouth wasn't running.  My 400-yard ferry journey was replaced by a 25-mile detour inland before I reached Bournemouth's lengthy beaches packed with tourists.
Shortly afterwards, I opened my last Ordnance Survey map and crossed into Hampshire. Finding it hard to concentrate and remain focussed, I nudged ever closer to my finish point.  Out on Calshot Spit, famed for its flying boat heritage, I saw Spinnaker Tower glinting at me in the distance: this was the Tower I couldn't shake-off when I left Portsmouth in 2017.  Seeing that old friend reappear was a surreal moment.  After months of an exacting routine, regularly interrupted by 'unexpecteds', I felt almost disbelief that the end was in sight.
I edged up Southampton Water before hopping onto Hythe's ferry which took me into the heart of Southampton's bustling docks.  From there I'd a straightforward walk to Lee-on-Solent and onwards to Gosport.  Looking across to the Naval Base, I was very tempted to jump onto Gosport's ferry, but couldn't: I was about to start my final round of Naval visits beginning at HMS Sultan.
That last week of walking between Naval establishments, meeting people and accepting donations was tiring but enjoyable.  We were always made to feel very welcome, just as we were on that final day, Friday 6 September.  Being met by Portsmouth's RM Band at HMS Nelson and led through the Naval Base was a very special honour, as was my formal welcome by the Second Sea Lord.  Sailors rattled buckets, well-wishers waved flags people cheered from office windows and the sun shone!
The walk ended as it began – standing on the deck of HMS Victory.  My 5,495-mile 'deployment' was over.
The Victory Walk is raising money for two Naval charities, WRNS BT and RNRMC and you still have time to donate.  The appeal will remain open to the end of the year. To donate go to www.Virginmoneygiving.com/victorywalk17-18.  To find out more about Jane's Victory Walk go to www.victorywalk.uk