Royal Navy Field Gun has been part of navy life for well over 100 years. It encapsulates the Navy's spirit of championing physical and mental courage, discipline, leadership and teamwork. The event sees teams of 18 – who have been training for months – race to assemble a field gun and run with it, disassembling and reassembling as the competition requires.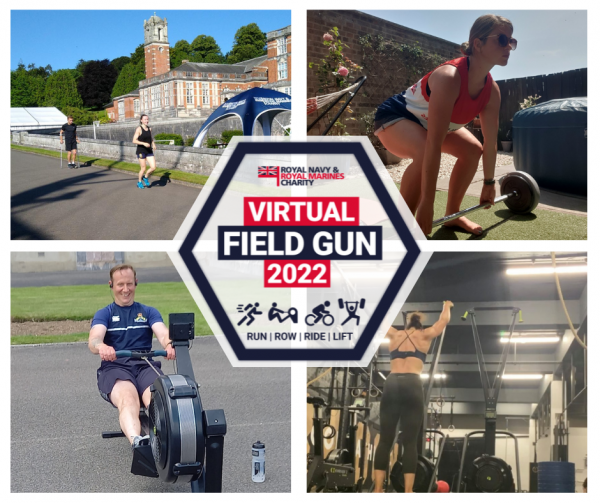 Run, row, ride, or lift
Train like a Field Gunner and run, row, or ride 7,488 metres (the number of nautical miles from Portsmouth to Port Elizabeth where the challenge originated) every day for 18 days (the number of people in a Field Gun team).
If weightlifting is more your thing, you could deadlift, bench press or squat 1,300kg (the weight of a field gun) every day for 18 days.
Or, get creative and come up with your own challenge based on the numbers 7,488 and 18.
Click here to watch the Field Gunners in action 
Anyone can take part
Take part on your own or as part of a team.
Why not challenge 18 friends to create a crew and go to the limit and beyond to be the top fundraising crew.
Crew challenge
For the official crews why not take on the 'Virtual Crews Challenge' and help to make a difference whilst you are training for the real thing!
Get together with your crew to complete a challenge including Rowing, Gun Pulls, Wheel Running and Shell Sprints.
How to take part
Decide on your Virtual Field Gun Challenge   and choose a week between 16th May – 2nd July to take part. This is when the physical teams will be doing their track training!
Sign up and create your fundraising page  for FREE
Ask all your friends and family to sponsor you
Complete your challenge
Raise a minimum of £25 each or £450 as a crew and receive your Virtual Field Gun 2022 t-shirt to wear with pride. (Please note: T-Shirts will be sent post event)
Why raise funds for the RNRMC?
By taking on this challenge and raising vital funds for the Royal Navy and Royal Marines Charity, means that we can continue to make a positive difference to the lives of those who serve or have served in the Royal Navy.
Thanks to your support we are able to tackle a wide range of issues that people may experience throughout their lives, from supporting those with financial and relationship difficulties to those affected by bereavement, injury or disability.
What is Field Gun?
The origins of Royal Navy Field Gun lay in 1899, in the Second Boer War, and in particular the epic 119-day Siege of Ladysmith.  As the British Army was besieged by Boer fighters, the Royal Navy landed guns from HM Ships Terrible and Powerful to help in the relief of the siege. The Naval Brigade manhandled six field guns each weighing nearly half a tonne over rough terrain to assist the British Army.
Each year since 1907, this has been commemorated in the form of annual Field Gun competitions. The historic Royal Navy Field Gun Tournament continues to be held at HMS Collingwood in Portsmouth.
Today, crews of 18 compete representing units of the Royal Navy, Royal Marines, British Army and Royal Air Force. They each race to assemble an antique field gun and run with it, disassembling and reassembling as the competition requires, before dramatically dragging the gun home, maintaining the spirit of the Royal Navy's contribution to the relief of Ladysmith.