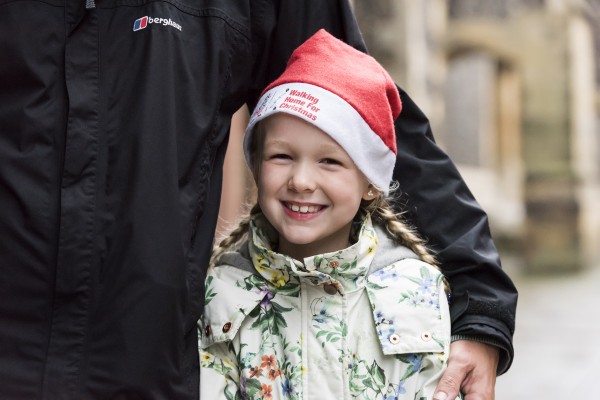 Newcastle, join Walking With The Wounded at Scalini's Loft Bar on Osborne Road, Newcastle upon Tyne for an informal drinks evening with an update on the charity and hear how you can become an ambassador for our Walking Home For Christmas campaign.
Military charity Walking With The Wounded (WWTW) is estimating it will treble the number of ex-servicemen and women it supports in 2018, following a 97% increase last year to more than 1,000. With Christmas fast approaching, for many a time of financial pressure and loneliness, more ex-service personnel than ever require support. "I realise that I have made a few mistakes in my life but the help I have received has been the stepping stone for me to make my life better and support my family," says Simon from Sunderland who joined the Parachute Regiment in 2006, aged 17.
This December, Walking With The Wounded is asking Newcastle to sign up to their Christmas appeal, Walking Home For Christmas, to raise vital funds for those wounded who have little to look forward to this upcoming festive season. The charity hopes to raise a quarter of a million pounds which will enable the charity to change the lives of more than 400 men and women. The campaign is proudly supported by Wolsey, who during World War 1 supplied over 18 million woollen jerseys, scarves and pieces of underwear to the British Armed Forces. [1]
Walking With The Wounded is also hosting a roadshow as part of the campaign this year. The charity asks that local supporters join them on Wednesday 1st November for drinks at Scalini's Loft Bar on Osborne Road, Newcastle upon Tyne. It's a free evening for supporters to meet a local beneficiary and learn how they can play a pivotal role in supporting our ex-servicemen and women this Christmas.
Evidence shows that there are still thousands of ex-service personnel like Simon who are struggling or haven't yet sought the support they require. Walking With The Wounded's mission is to support all ex-servicemen and women with physical, mental or social injury to gain the skills and qualifications necessary to develop new careers outside the military, re-integrate into society and provide long term security for themselves and their families.  In Simon's case, he was medically discharged in 2012 following a shrapnel injury to his ankle whilst on tour in Afghanistan in 2010. He was later diagnosed with Post Traumatic Stress Disorder (PTSD). Simon was referred to WWTW's Project Nova and received mental health as well as employment support. He is currently in full time employment and hoping to develop a career in property maintenance.
Andy Sloan, Events Manager at WWTW said: "Too many of our ex-military have little to look forward to this Christmas. They've walked in far more dangerous environments for us, so it is the least we can all do to organise a walk for them."
Andy Sloan continues: "We want people to throw on a Santa hat, call up old friends and raise some funds so that we can support these men and women back into work, back into independence and into a place where they can look forward to and enjoy Christmas with their families."
WWTW's criminal justice programme, Project Nova, works in partnership with police forces in order to identify local ex-servicemen and women within custody and provide them with early intervention support. Having completed a highly successful pilot in Norfolk and Suffolk, Project Nova is now expanding across the UK, particularly in the North East and West. Project Nova's aim is to avoid further deterioration in the individuals' circumstances which could result in them losing their jobs, a breakdown of their relationships or a possible custodial sentence.
This Christmas, Walking With The Wounded is asking the people of Newcastle to do a walk of any sort between Friday 8th – Sunday 17th December for our wounded ex-servicemen and women, those who without our support could be on the streets, without a job, isolated from their family, in debt or in prison. Simon says: "Thanks to the support of WWTW I'm now employed. I'll be working over the Christmas period, but on Christmas Day I'll be with my family and those I love. This year, I'm looking forward to creating special memories."
In addition to supporting these vulnerable men and women, Rod Eldridge, Clinical Lead at WWTW, reminds us that: "Walking as a form of physical activity is well known to be associated with improving mental health, particularly lowering rates of depression and anxiety across all age groups." It's medically proven that people who do regular physical activity have up to a 30% lower risk of depression and up to a 30% lower risk of dementia. Some scientists think that it can improve mental wellbeing because it brings about a sense of greater self-esteem, self-control and the ability to rise to a challenge.[2] Thus contributing another reason why WWTW is urging Newcastle to get out and about this December, get active and in turn serve those who have served us.
For more information, please visit wwtw.org.uk/Christmas.
How to take part:
Sign up at org.uk/Christmas
Receive your Santa hat and fundraising pack in the post.
Set a date and put your best foot forward between Friday 8th – Sunday 17th December.
Inspiration:
Last year Tom (age 9) walked to school with his dad, Wendy (age 62) walked everyday in December in her local town, dressed as Father Christmas and Adam (age 36) ran from Bath to Belfast to join his family for Christmas Day. Whatever you decide to do, your steps will make a difference to the futures of our wounded.
Have a question?
Email whfc@wwtw.org.uk or call 01263 863902
[1] https://wolsey.com/pages/history
[2] NHS Choices: http://www.nhs.uk/Conditions/stress-anxiety-depression/Pages/mental-benefits-of-exercise.aspx