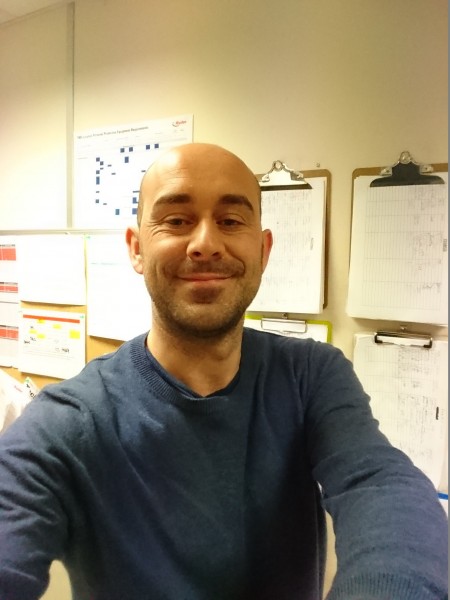 A veteran from West Sussex is currently training to compete in a 100km walk from London to Brighton for Blind Veterans UK, the national charity for blind and vision-impaired ex-Service men and women.
Dan Baldwin, 41 and from Worthing, will be taking part in the challenge with his friends Peter, Neil, Huw and Gary. He explains: "Gary, Pete, Neil and I were all in the Royal Mechanical and Electrical Engineers (REME) together. In fact, Gary, Pete and I all started the same apprenticeship course at Princess Marina College Arborfield together in 1994."
On his Service, he says: "For me personally, it was a brilliant experience. I didn't really know what I wanted to do when I left school, but joining the Army gave me direction and training. The apprenticeship itself was second to none and has served me exceptionally well throughout my entire career."
Dan left the Army in 2004 after ten years' Service and currently works in Quality Assurance. He says: "It was the right time for me to leave. I reached a set of crossroads where it was either leave, or spend the rest of my life in the Forces. I was ready to start a new career and start a new family, so it was definitely the right decision.
Dan came across the 100k London to Brighton, which takes place from 7 – 8 July, after seeing an advert on Facebook. He recalls: "When I saw the event, my interest was piqued immediately.
"My friends and I try to do a challenge every year. We did the South Downs Way last year, and have previously completed the Three Peaks, amongst other things. My knee has taken a bit of a hit over the past few years, so as a walking event, the 100k was perfect for me."
Dan maintains that his own Service has also afforded him a tremendous amount of respect for veterans living with sight loss. He explains: "Leaving the army with your health intact is hard enough. The idea of leaving while also battling blindness is terrifying, and we're honoured to be able to support the vital work carried out by Blind Veterans UK in ensuring these brave men and women are given every opportunity to live with the confidence and independence they so richly deserve."
With over six months to go, Dan says that despite the nerves, he's excited for what lies ahead. He says: "I'm really looking forward to it! Obviously it's a daunting prospect but, being veterans, we've yomped and marched a fair old distance! We haven't really got a time we'd like to finish in mind, it's really more about finishing and raising as much money as we can."
"We've heard many fantastic things about the atmosphere on the day. The camaraderie is meant to be brilliant so I think we're all just looking forward to that. What's going to be the icing on the cake, however, is the prospect of finishing at the charity's training and rehabilitation centre in Ovingdean. It's so rare that, when fundraising for an organisation, you get to meet the beneficiaries, so it should be a truly special moment."
"For anyone even vaguely interested in taking part, I'd recommend it 100%. The fundraising, the sense of anticipation and promise of achievement is all fantastic. Even the training has been enjoyable so far!"
The 100k London to Brighton will take place from 7 – 8 July 2018. It will see participants start off at the Hammersmith and Fulham Rugby Club, before crossing the North Downs, walking via woodland and small villages to Sussex and through the South Downs.
Registration is currently open with a fee of £50 for individual and team entrants, and £100 for relay teams. There is a minimum sponsorship pledge of £300 for individuals, £1,250 for teams and £500 for relay teams. The all-inclusive entrance fee includes lunch, dinner and breakfast at numerous rest stops, snacks and refreshments along the route and a free event t-shirt.
To support Dan as he takes on the 100k for Blind Veterans UK, please visit: justgiving.com/daniel-baldwin11.
To sign up for the Blind Veterans UK 100k, please visit blindveterans.org.uk/100k.
More images available on request.
For all media enquiries please contact: Felix Arbenz-Caines, PR Assistant, Blind Veterans UK, 12 – 14 Harcourt Street, London W1H 4HD, E: Felix.Arbenz-Caines@blindveterans.org.uk, T: 020 7616 7941
Notes to Editor
Blind Veterans UK
Blind Veterans UK is a national charity that believes that no-one who has served our country should have to battle blindness alone. Founded in 1915, the charity provides blind and vision impaired ex-Service men and women with lifelong support including welfare support, rehabilitation, training, residential and respite care.
Find out more at: blindveterans.org.uk, follow us on Facebook at: facebook.com/blindveteransuk and on Twitter at: twitter.com/blindveterans.