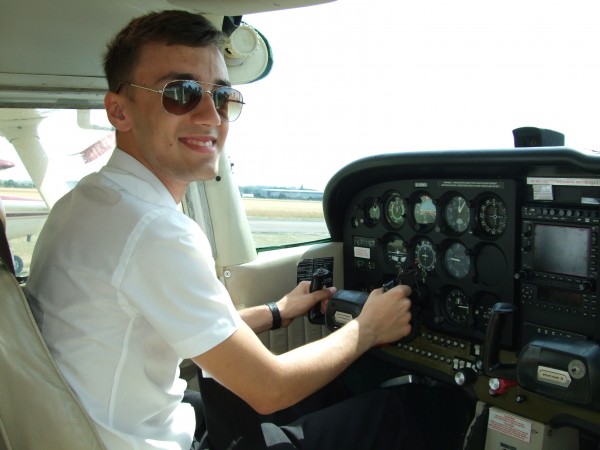 The RAF Association is preparing to send its 100th air cadet flying, with its 2018 Flying Scholarship programme. Coinciding with the RAF centenary year, six air-minded youths will be awarded flight training including the 100th recipient of the Flying Scholarship. However, cadets' keen to apply must hurry, the closing date for all entries is 31 January 2018.
Through the scholarship programme, air cadets are given the opportunity to take to the skies, with one air cadet awarded 35 hours flight training in a light aircraft. Five runners-up will each receive 12 hours.
Scholarships are offered as a thank you from the RAF Association to members of the RAF Air Cadets who raise funds for the charity. The programme makes quite an impact on the talented recipients, who cover many air miles during their training, including flying to France.
Speaking of his flying scholarship experience, 2017 runner-up, Cadet Sergeant Karol Kubik from 43F (Morden & Mitcham) Squadron said:
"It's definitely the pinnacle of anyone's air cadet career. It's a fantastic opportunity and I'm very grateful."
He continued:
"The beauty of organisations like the RAF Air Cadets and the RAF Association is that they don't discriminate. Where you live, where you're from, as long as you have the motivation and work hard, you'll go far."
See Karol in action at www.rafa.org.uk/flying-scholarships.
Scholarships are open to all members of the RAF Air Cadets, Combined Cadet Force (RAF), Girls Venture Corps Air Cadets and Air Explorer Scouts.
To apply for a scholarship, which is worth £7,905 (35 hours) and £2,404 (12 hours), visit rafa.org.uk/flying-scholarships and download an application form. Entries must be received by 31 January 2018. For full terms and conditions please see the website.
For more information on the work of the RAF Association visit rafa.org.uk
ENDS
Notes to editors:
Contacts for media: Lauren Park, PR and Communications team, RAF Association, Leicester – 0116 268 8755 or 07867 591057.
About the Royal Air Forces Association
The Royal Air Forces Association (or RAF Association) is a membership organisation and registered charity that provides welfare support to the RAF family.
The Association recognises that RAF personnel and their immediate families dedicate their lives to their country, and we believe that such a sacrifice should not result in suffering, poverty or loneliness.
Whether it's an injured airman fighting to get back on his feet, a young child missing their parent away on overseas operations, or a World War II veteran needing a shoulder to lean on, we are here to help all generations of RAF personnel and their families.  We also support serving families if they need us.  We give practical, emotional and financial support.
Our membership of more than 65,500 includes serving RAF personnel, veterans and members of the public who want to show their support for the work that we do.
Across the UK in 2016 the Association carried out 13,800 home visits, helped tell thousands of bedtime stories to children whose parents were away on operations, and gave tailored holidays to 2,500 RAF veterans, widows and family at our Wings Break hotels. Our support ranges from simply providing conversation and friendship to preparing and submitting application forms for financial assistance.
Charity numbers: 226686 (England and Wales), SCO37673 (Scotland).