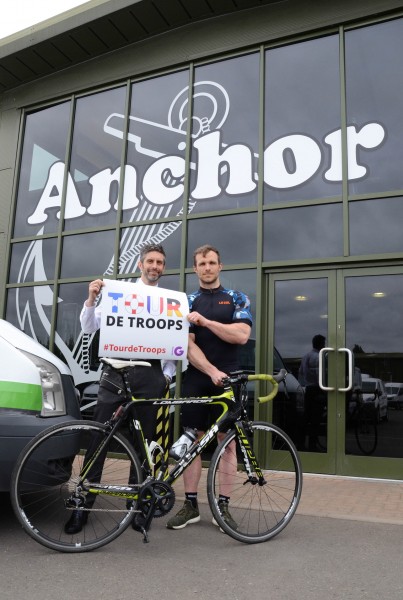 Anchor Vans, the UK's biggest commercial vehicle hypermarket, will be supporting dedicated cyclists taking part in the Tour de Troops challenge this summer.
The event, a five-day endurance test that sees participants cycling all the way from Land's End to John O' Groats, is taking place in aid of military charity the Felix Fund.
The Felix Fund supports the country's brave disposal experts, the EOD community and their families.
Official sponsorship for the event comes from L3 TRL Technology, a defence  cbersecurity company.
In the spirit of charity and to champion sporting excellence, Anchor Vans will be loaning the organisers two large Transit 260 SWBs for the duration of the ride. The hardy vans, which possess 2.0L engines, will be used as support vehicles, acting as essential resources for the health, safety and wellbeing of riders.
Simon Joyce, managing director of Anchor Vans, commented: "As a company, we're really happy to be supporting this fantastic challenge. The task is no mean feat, and all of the cyclists have spent months of hard work preparing for it. The Felix Fund is a fantastic cause that we hope raises a substantial sum of money both before and after the event itself."
No stranger to fundraising, Anchor Vans and their team take part in various charitable activities such as the endurance test called Tough Mudder. Last year's event online managed to raise over £3,000 for Prostate Cancer UK, a charity that supports people with prostate cancer and their families.
This year, Felix Fund hopes to raise even more money, and are already welcoming donations via their fundraising page.
Captain James Wadsworth, who founded the event, shares Anchor Vans' hopes that it will bring in sizeable donations. He said: "We're really grateful to Anchor Vans for lending us their fantastic vehicles. Without them, we would not be able to ensure the safety and security of our riders. With health and safety sorted, we can concentrate on doing the Felix Fund proud!"
Editor's notes

The Tour de Troops will run between Thursday June 7 and Monday June 11. Registration information can be found here.
Anchor Vans is one of the UK's leading independent van dealerships thanks to 30 years of high-quality service from their hard-working teams. The company's expansive open court holds an impressive array of new and used vans for customers across the country. They currently hold a position as one of the top 50 independent motor dealers in the UK by Motor Trader, as well as being recognised in the UK Van Dealer of the Year awards.
To find out more about Anchors Vans, the services the company offers and about their dedication to raising money for good causes, please get in touch with their friendly team on 0118 9710 230 or visit www.anchorvans.co.uk.
For editorial enquiries, contact 0131 357 8977 or email pr@redheadpr.co.uk
Ends 
Follow redheadPR on Twitter and like them on Facebook
Visit www.redheadpr.co.uk
Find out more about founder and managing director, Sara Tye