Annington, which leases housing to the Ministry of Defence for service families, has pledged a further two years' support for the popular "Short Breaks" scheme, an initiative of SSAFA, the Armed Forces charity.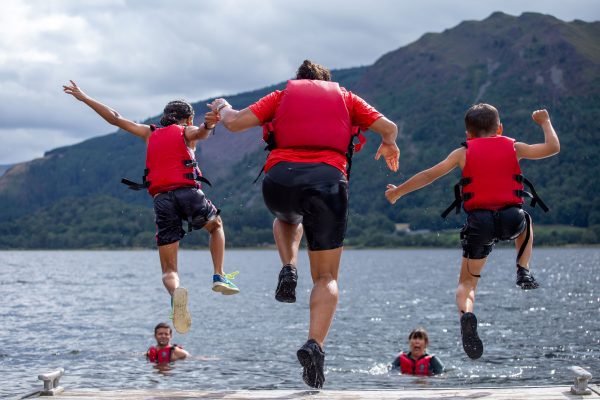 SSAFA's Short Breaks are for serving families who have a child with an additional need or disability. These are free breaks and an opportunity for families to spend quality time together, to try fun adventure activities and to meet other Forces families in similar situations.
A number of breaks are held at the Calvert Trust centres in the UK, and this year there are five: two in the Lake District and three on Exmoor.
Annington's support for SSAFA's Short Breaks began in 2018, with a commitment to three years in 2019, and has now been extended to 2023 and 2024.
The housing provider's vital support for the service families – sponsoring an entire Short Break at Calvert Trust Lake District for all attendees – this year totals some £49,000.
Helen Liddell, Chair of Annington, explained the company's continuing support for SSAFA and Short Breaks, saying:
"We have a long history of supporting military charities working with service families. The company is keen to continue its support of SSAFA and the Short Break programme, as we are acutely aware that for Armed Forces' families that have a child with a special need or disability, accessing additional support can be difficult and add to the challenges of life as a military family.

"The benefits of SSAFA's Short Breaks programme are well documented and through the support given to the programme by Annington, we have seen for ourselves just how families benefit from a holiday where addressing their child's needs are central.

"SSAFA's ethos and values very much align with our own, and the Board of Annington is committed to ensure that funding for the programme continued. We are absolutely delighted to be able to fund a family break for such a deserving group and hope those who attend have a wonderful time."
Lynne Doherty, Director of Social Care Operations for SSAFA, commented:
"That Annington is continuing to support serving Forces families in such a generous way by sponsoring an entire Short Break is testament to the high regard it has for the military community, and especially those with family members with additional needs in life.

"But it also demonstrates the strong relationship that exists between Annington and SSAFA, and the trust that the company places in the UK's oldest tri-service charity to help those in the military community when they need it, how they need it, and where they need it.

"Projects and opportunities like these help Forces youngsters build self-confidence and the benefits these types of experiences can have on young people are immeasurable, and so I must say, on behalf of SSAFA, a big 'thank you' to Helen and all at Annington for their generous assistance with the Short Breaks."
Fran Robinson, SSAFA's Service Manager Additional Needs and Disability, said:
"Due to the needs of our families, we often find that many struggle to find activities they can all do together, let alone find a break away. These breaks give families just that; they are a chance to escape the 'day-to-day', and so I echo Lynne's thanks to Annington on behalf of all the people that have benefited from its sponsorship, and the families that will through 2023 and 2024."