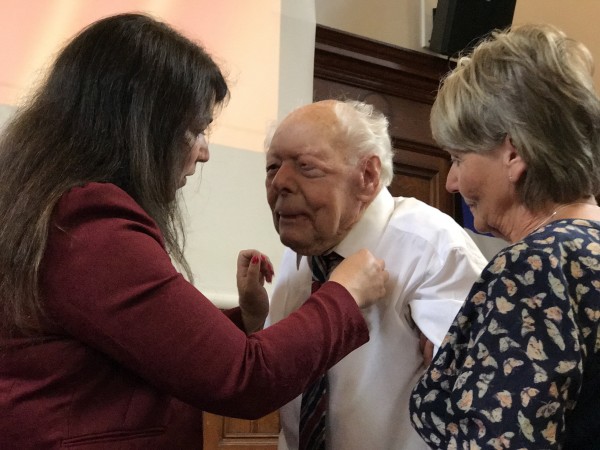 A blind veteran from Wigan has been formally presented with the Chevalier de l'Ordre National de la Legion d'Honneur for his part in the liberation of France.
Dennis Clements, 92 and from Orrell, was presented with the prestigious honour in front of friends and family in Llandudno, North Wales by French Honorary Consul, Mrs Aude Auclair. The ceremony was arranged and organised by Blind Veterans UK, the national charity for blind and vision-impaired ex-Service men and women, from whom Dennis receives support.
For Dennis, the occasion was a surprise, with his daughter, Sylvia, managing to keep it a secret up until the very last moment. She explains: "He was going to be there for gardening week anyway, so we thought we'd arrange it as a surprise for him. We're absolutely over the moon for him and so we wanted to make it as special as possible. He deserves it so much. Despite his sight loss he never stops smiling, never complains; he's just so grateful for everything everyone does for him. I'm just so proud of him."
Dennis adds: "It was a wonderful end to a fantastic week. To have been awarded this prestigious medal is a great honour and I'm so glad that my family were here to celebrate with me.
"Blind Veterans UK couldn't possibly do any more than they already do. It's just unthinkable. Truly, words cannot explain what they do for people battling sight loss."
Dennis, born in 1925, joined the Royal Army Service Corps in 1943, before discharging in 1948 as a Sergeant. His five years' Service involved various tours of Europe, where he was primarily responsible for the management of ambulances.
Dennis recalls: "There was one particular story I always love to tell. It involved me accidently crashing an ambulance into a lamppost in Amsterdam, which unfortunately resulted in the lights going out in The Hague!"
Dennis was also involved in the D-Day landings, transporting diesel to the soldiers on the beach from D-Day+2. Despite the many hardships and sufferings of the war, Dennis looks back upon his time of Service positively. He says: "Overall I look back on it as a good time in my life. I felt that I was doing something worthwhile; I loved the camaraderie and meeting new people. I also met my wife in Berlin!
"I wouldn't have changed any of it for the world."
After the war, Dennis worked as a foreman for Heinz, where he remained until his retirement at the age of 57. Unfortunately his eye sight began to deteriorate some 15 years ago. He explains: "I've got age related macular degeneration. It was a gradual process but it means that I'm now more or less blind in my right eye. I've also had merkel cell skin cancer which has affected my left eyelid. I've had to have it reconstructed with skin from my cheek. My family jokes that I now grow whiskers from my eyelid!"
Despite his severe sight loss, Dennis has been able to maintain an uplifting outlook on life. Sylvia, explains: "He never stops smiling, never complains; he's just so grateful for everything everyone does for him. He's got a wonderful relationship with his doctors, they've left no stone unturned with their treatment of him and it's because of his manner with them."
Fortunately for Dennis, his doctors at St. Pauls Hospital in Liverpool told him he was eligible for the free lifelong support offered by Blind Veterans UK. He explains: "I just remember it sounding like a great idea. It's opened so many doors, we're just thrilled with the whole organisation.
"The staff at Blind Veterans UK are wonderful, I can't believe how genuine and caring they are. The care they've given us, the help, the contacts, everything. It's that feeling that you're not alone, that you're part of something much bigger – something you know you can always turn to for help."
Blind Veterans UK was founded in 1915 and the charity's initial purpose was to help and support soldiers blinded in the First World War. But the organisation has gone on to support more than 35,000 blind veterans and their families, spanning WWII to recent conflicts including Iraq and Afghanistan.
For more than a century, the charity has been providing vital free training, rehabilitation, equipment and emotional support to blind and vision-impaired veterans no matter when they served or how they lost their sight.
Additional images available on request.
For all media enquiries please contact: Felix Arbenz-Caines, PR Assistant, Blind Veterans UK, 12 – 14 Harcourt Street, London, W1H 4HD, E: felix.arbenz-caines@blindveterans.org.uk, T: 020 7616 7941
Notes to Editor
Blind Veterans UK
Blind Veterans UK is a national charity that believes that no-one who has served our country should have to battle blindness alone. Founded in 1915, the charity provides blind and vision impaired ex-Service men and women with lifelong support including welfare support, rehabilitation, training, residential and respite care.
Find out more at: blindveterans.org.uk, follow us on Facebook at: facebook.com/blindveteransuk and on Twitter at: twitter.com/blindveterans.