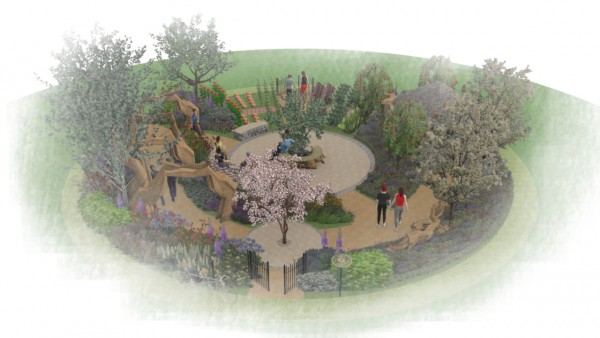 It was announced today (10/02) that military charity Blind Veterans UK will be sponsoring a special garden at the RHS Hampton Court Palace Flower Show in July.
The 'It's all about community garden' has been designed by celebrated designers Andrew Fisher Tomlin & Dan Bowyer and it will be one of the largest show gardens at Hampton Court this year.
Blind Veterans UK is the national charity for vision-impaired ex-Service men and women. They support anyone who has served in the UK Armed Forces, or who has done National Service, who is now living with significant sight loss.
The garden will feature traditional stone, oak and willow, which will come together with ornamental trees, flowers, an orchard and a kitchen garden. The major structure is a willow vine sculpture that wraps around the whole garden. The sculpture, created by renowned artist Tom Hare, allows visitors to walk through parts and experience the textures, colours and fragrance of the garden first hand. They will also get to enjoy a number of art and craft sculptures and features made by blind veterans themselves.
Garden designer Andrew Fisher Tomlin said: "The blind veterans, volunteers and staff are an inspiring community that come together to ensure veterans recover their independence and discover a life beyond sight loss.
"Our garden reflects this sense of community, exploring many different aspects of what Blind Veterans UK does – bringing people together, supporting passive and active therapy, providing vital life skills and independence, offering learning, training and recreation opportunities."
The charity was founded more than 100 years ago to support those blinded in the First World War. Now, the charity supports veterans regardless of when they served or how they lost their sight. The Blind Veterans UK community has grown and the charity now supports more than 4,000 veterans, more than ever before in its history.
However, the charity estimates that there are up to 55,000 blind veterans that would be eligible to access its specialist support but are not currently aware of it.
Chief Executive of Blind Veterans UK, Major General (Rtd) Nick Caplin CB, said: "This garden, at the prestigious RHS Hampton Court Palace Flower Show, is a fantastic opportunity to reach out to the thousands of blind veterans out there who don't know they're entitled to our support.
"Blind Veterans UK has set an ambitious target to double the number of veterans we support in the next five years. This garden represents the community of blind veterans that we hope to grow. As the average age of the veterans we support is rising, we have now extended our services to provide more practical and emotional support closer to our beneficiary's own communities.
"If you, or someone you know, served in the Armed Forces, including National Service, and is now battling severe sight loss then please do get in touch with us."
After the Hampton Court Palace Flower Show, the garden will be divided between the charity's two main training and rehabilitation centres in Llandudno and Brighton.
Garden Designer Dan Bowyer added: "It is not the traditional idea of a 'sensory' garden for vision impairment but celebrates the ability, activity and vibrancy of the blind veterans the charity supports.
"We are so proud to be working with Blind Veterans UK once again. Our work with the charity has already been recognised by the RHS with outstanding neighbourhood awards in Wales in Bloom in 2015 and 2016."
Blind Veterans UK was founded in 1915 and the charity's initial purpose was to help and support soldiers blinded in WWI. But the organisation has gone on to support more than 35,000 blind veterans and their families, spanning WWII to recent conflicts including Iraq and Afghanistan.
For more than a century, the charity has been providing vital free training, rehabilitation, equipment and emotional support to blind and vision-impaired veterans no matter when they served or how they lost their sight. If you, or someone you know, served in the Armed Forces or did National Service and are now battling severe sight loss, find out how Blind Veterans UK could help by calling 0800 389 7979 or visiting noonealone.org.uk.
ENDS
For all media enquiries please contact: Mark Wheeler, PR Officer, Blind Veterans UK, 12 – 14 Harcourt Street, London, W1H 4HD, E: mark.wheeler@blindveterans.org.uk, T: 020 7616 7980
Notes to Editors
Blind Veterans UK
Blind Veterans UK is a national charity that believes that no-one who has served our country should have to battle blindness alone. Founded in 1915, the charity provides blind and vision impaired ex-Service men and women with lifelong support including welfare support, rehabilitation, training, residential and respite care.
Find out more at: blindveterans.org.uk, follow us on Facebook at: facebook.com/blindveteransuk and on Twitter at: twitter.com/blindveterans.