BRAVO VICTOR, the international research charity headquartered in London and Washington, D.C. announced the appointment of Major General (Retd) Nick Caplin CB as Chief Executive.  Nick will take up the post, on a part time basis, from 1 March 2023.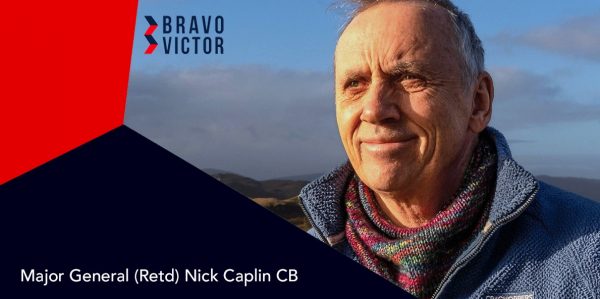 Nick needs little introduction to those in the sight loss or veterans' charity sector.  He joins us after an 8-year term as Chief Executive at the helm of Blind Veterans UK, the national charity for vision-impaired ex-Service men and women.
BRAVO VICTOR, now in its 2nd year, is entering a new phase of development and growth.  It remains committed to its mission to accelerate research and explore innovations to prevent, reduce or reverse visual impairment and related conditions and disabilities, in order to help veterans and other people to live well with these impairments.
BRAVO VICTOR Trustee and Chair of the Nominations committee, Ian Sherriff, said
"We were fortunate to have so much interest in the CEO role and after an arduous and thorough selection process we are delighted that Nick accepted the offer to take up the post of CEO.
Nick Caplin said
"I am delighted to join such a remarkable organisation which, in a very short space of time, has emerged as research leaders in the sector. We have an exciting time ahead of us.  Every day BRAVO VICTOR's work moves us closer to a detailed understanding of the challenges affecting, and solutions for, those veterans and other people living with visual impairment, sight loss and other related disabilities. Coupled with the advances in technology and the work being done by the research Innovations team, we intend to make a significant difference."
Nick Caplin is married to Isobel and has two grown-up children, Alastair and Camilla. His interests include classical music (he describes himself as a rusty pianist and organist), sailing (Yacht master qualified) and enjoying the outdoors. He was awarded the Queen's Commendation for Valuable Service in 2001 and appointed Companion to the Most Honourable Order of the Bath in 2012.