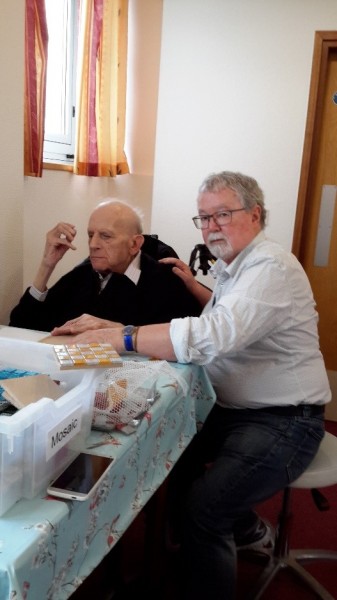 A man Brighton is relishing his role as a volunteer for Blind Veterans UK, the national charity for vision-impaired ex Service men and women.
Tony Weston, 66 and originally from Newcastle, began volunteering for the charity at its training and rehabilitation centre in Ovingdean in 2016 following his retirement. He says "I worked for 50 years – long hours too – so going from that to nothing was hard. I didn't know what to do but I knew I needed something to keep me busy."
Tony has long held an interest in the Second World War, particularly the effects it had on returning soldiers suffering mentally as well physically. He says: "I read a lot of books about the Second World War and it gives me a great deal of sadness to hear about men who were left to fend for themselves once the conflict was over. When I initially approached the charity, I told them I didn't have any particular interests, I was just keen to help out in any way I could."
Tony was paired with Ernest, a 90 year-old veteran who lives at the centre, and has since been able to strike up a strong and special friendship. He says: "He's wheelchair bound, has dementia and is almost completely blind, so a lot of the time it's very limited conversation. What he loves to do though is make coasters for drinks, so when he's sat in the servery I'll bring him all the necessary equipment. We've got a great routine now where I give him directions and he's able to create something of his own; it's a fantastic stimulant for him."
Tony, who visits Ernest on Tuesday and Thursday mornings, is thoroughly enjoying the experience which he states has been fulfilling and rewarding beyond all his expectations. He says: "I really, really enjoy it. I feel very protective towards Ernest; he recognises me and you can hear the pleasure in his voice whenever I'm around. I've been told by the staff that, while he often forgets other people's names, he always mentions me when I'm not around."
Volunteers form an integral part of the support Blind Veterans UK is able to provide people like Ernest with. Thanks to their skills, knowledge and experience, they're able to make an enormous difference to so many veterans in need of care and friendship.
Rosemarie Hegarty, Volunteering the Development Officer at Blind Veterans UK, is immensely grateful for the time and attention volunteers like Tony have and continue to contribute to the charity. She says: "Tony was new to volunteering but he's been an absolute diamond. He's already established a great bond with Ernest and has also helped me with additional volunteer recruitment."
Tony, a former pharmacy worker, believes that the ability for blind veterans such as Ernest to regain confidence and adjust to a life beyond sight loss is largely down to the fantastic work undertaken by the care workers. He says: "The level of care extended to Ernest is incredible. He's always dressed so smartly and his living space is so well kept; that's really a testament to the staff who go out of their way to give him their undivided attention."
To find out more about Bind Veterans UK, and how you can support the charity, visit: blindveterans.org.uk/support
For all media enquiries please contact: Felix Arbenz-Caines, PR Assistant, Blind Veterans UK, 12 – 14 Harcourt Street, London, W1H 4HD, E: Felix.Arbenz-Caines@blindveterans.org.uk, T: 020 7616 7941
Notes to Editor
Blind Veterans UK
Blind Veterans UK (formerly St Dunstan's) is a national charity that believes that no-one who has served our country should have to battle blindness alone. It provides blind and vision impaired ex-Service men and women with lifelong support including welfare support, rehabilitation, training, residential and respite care.
The charity needs £100 million over 5 years to provide lifelong support to blind ex-Service men and women. Find out more at: www.blindveterans.org.uk, and follow us on Facebook at: www.facebook.com/blindveteransuk and on Twitter at: twitter.com/blindveterans.