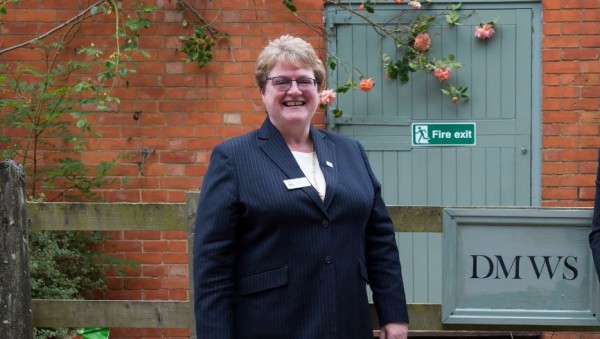 The Queen's Birthday Honours list published on 16 June 2017, on the occasion of Her Majesty's official 91st birthday, recognises the achievements of a wide range of extraordinary people right across the United Kingdom. This year, the St John and Red Cross Defence Medical Welfare Service (DMWS) Chief Executive Nicky Murdoch is awarded an MBE for service to the Armed Forces Community and their families.
Nicky Murdoch completed a 30 year career in the Army where she specialised in personnel work. After her own battle with Breast Cancer in 2007, Nicky moved to the voluntary sector to utilise her skills, knowledge and awareness of the issues facing our Armed Forces when in hospital.  She joined DMWS in 2011 to develop and expand the service.
Her dedication, diligent work and commitment to improving the lives of others has now been recognised with a much deserved MBE.
Nicky said: "I feel truly elated and humbled to receive this recognition, amongst some so many tremendous individuals."
"The last six years at DMWS have been incredibly rewarding, and together with a remarkable team and valued partners, we have achieved our aim of providing a highly effective and professional welfare service to our Armed Forces community and their families."
Since its inception in 1943, DMWS has supported over 1,000,000 patients and their families, and served all over the world alongside military medical colleagues.  As Defence and the NHS have changed DMWS have responded and DMWS Welfare Officers now work predominantly in NHS hospitals across the UK.
In the last year DMWS have extended their service to include the Police and are currently working in Hampshire, Avon and Somerset to establish this service for Police officers and their families in the same way they have supported the Defence Community.  Most recently DMWS were asked to provide support in hospitals across Greater Manchester in response to the terrorist bombing incident.
She added: "It is vital that we look after those who put themselves in harm's way for the nation and I am lucky that my team and I have the privilege of contributing to that commitment."
ENDS
For more information about DMWS please visit www.dmws.org.uk
Notes to editors
For further information on DMWS please contact Christine Pilbeam, Marketing and PR Manager on 01264 774009 or email mfo@dmws.org.uk
About DMWS
DMWS is an independent charity which provides help and support to the Armed Forces Community when they are following a medical care pathway. Established in 1943, they are a professional welfare provider; who deliver a comprehensive impartial and confidential medical welfare service, directly at the point of need. DMWS are responsive to the needs of patients and families, their organisation and health care professionals.
Any hospital treatment whether planned or unplanned can be stressful and can bring with it feelings of isolation, stress and worry, all of which may hamper recovery.  DMWS's rich history of medical welfare ensures early intervention and assessment of patient needs outside of the clinical treatment pathway, allowing the health care providers to focus on their core work.