This week, we celebrated 100 years of the RAF. Philip Rushbrook, our Director of Governance Support attended and had this to say:
Just about everyone in the country by now should be aware the RAF is 100 years old this year. A relative youngster compared to the Royal Navy and the Army but nonetheless a vital component in Britain's modern armed services. Whilst the sleek fighter aircraft get the admiring looks from the public and media photographers, we should not forget the essential and frequently unsung work undertaken by the RAF's helicopters and transport squadrons, as well as the large cast of supporting specialists on the ground preparing people and planes for duty. On the occasion of its birthday it was an ideal opportunity for the RAF to recognise the support provided by military charities by inviting them to its birthday bash.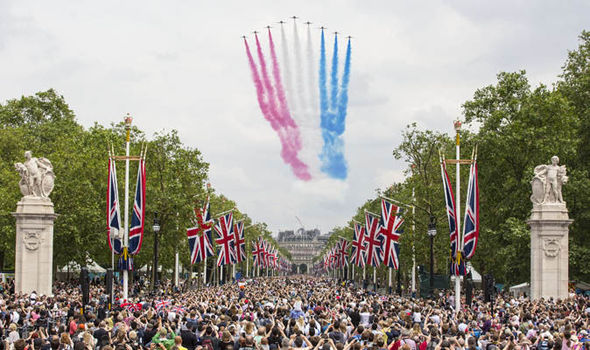 Cobseo was honoured to be invited, along with many charities, to attend the official celebrations on Tuesday, 10th July. The day of events began with a memorable service in Westminster Abbey attended by the Queen, members of the Royal Family, religious and political leaders including the Secretary of State for Defence. Around 2200 people were crammed into the abbey to attend the service of commemoration led by the Archbishop of Canterbury. The Prime Minister spoke of her for admiration for the achievements of the RAF in its first hundred years. The Chief of the Air Staff Sir Stephen Hillier praised the dedication and sacrifice of airmen and women now and in previous times, whilst asking everyone to commemorate the past, celebrate the present and inspire those to come in the future.
After the service there was a gathering for air force personnel, their families, civilian component, foreign defence attaches, charity representatives and many others in Horse Guards Parade. The large site was filled to brim with aircraft on display, defence contractors showing off some of their innovations and rousing music from the Band of the Royal Canadian Air Force. Huge TV screens broadcast live the RAF parade at Buckingham Palace and the receiving of the RAF's new colours. The celebrations continued with a dramatic fly past of 100 RAF planes both old and new and then the arrival of the RAF baton relay. The baton had toured 100 sites connected to the RAF in 100 days with its final arrival in London at the heart of the day's celebrations. With barely time to take it all in, the official celebrations concluded with the cutting of the 100th birthday cake by the Chief of the Air Staff just before the arrival of squadrons of air cadets eager to see the planes dominating the parade ground.
Well done, RAF. A birthday to remember.
Philip
–
Image source: Daily Express