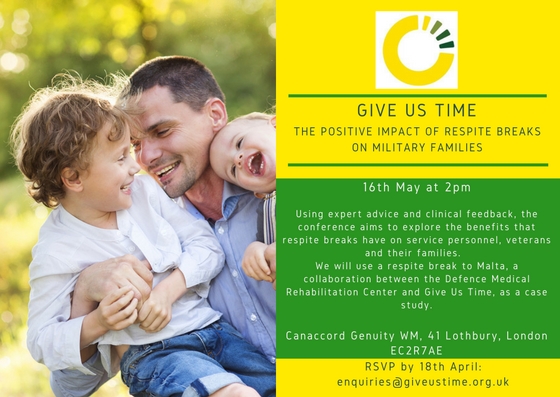 Give Us Time is delighted to present our conference "The positive impact of respite breaks on Military Families" which will be held on the 16th of May at Canaccord Genuity HQ, London, EC2R 7AE.
The conference aims to highlight the positive impact that respite breaks have on military families. Professor McCabe, Nottingham University will set the scene for a case study based on the clinical feedback from our group break to Malta: a collaboration with the Defence Medical Rehabilitation Centre, Headley Court.  The conference will be an occasion to shed a light on the importance of respite breaks, explore further work and provide an opportunity for discussion with interested parties.
The event will start at 2pm and end by 3.30pm, followed by coffees and networking.
The event is free, but space is limited. If you would like to attend please get in touch as soon as possible at enquiries@giveustime.org.uk