The Award Ceremony took place at Plaisterers' Hall, London on Thursday 7 November. We welcomed familiar faces from across the veteran community as well as some new members alongside great representation from businesses, charities, government, royalty and the MOD.  Stuart Rock and Alecia Emerson-Thomas hosted the outstanding event that will go down as the highlight of the year for the charity.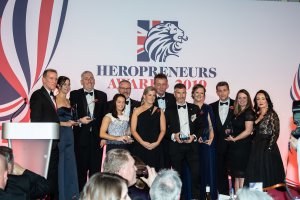 Congratulations to all of the finalists of this year's Heropreneurs Awards Finalists. Judging this year couldn't have been tighter and every entrant put forward a remarkable submission for the awards.
Many thanks to the sponsors and supporters this year, without you, the event simply couldn't be held. We look forward to working with you over the next 12 months.
Chairman of the Judges, General Sir John McColl KCB, CBE, DSO, said:
"Congratulations on a wonderful evening; immaculately choreographed, and put together with style and panache.  Not only did we celebrate the very best of British determination, drive, and ingenuity but we also had a really good time!  There was real buzz in the Plaisters' Hall and the energy was tangible.  Importantly those nominated will have come away feeling that their efforts have been recognised and return to their businesses with renewed vigour and commitment.

"Thank you for organising last night and for all that you do for a really important section of the Veterans community."  
Without further ado, the winners for the evening, listed below:
ENTREPRENEUR OF THE YEAR – Sponsored by AYR Aviation
Steve Birdsall – Gaist Solutions Limited
This category was so tight the judges felt it necessary to create an additional award to recognise an entrepreneur that couldn't be overlooked as a leader in their own field 'Entrepreneurial Success of the Year', which goes to Ed Bussey of Quill Content.
HEROPRENEUR OF THE YEAR – Sponsored by Black Isle Group
Nick and Louise Goldsmith – Hidden Valley Bushcraft
LARGE EMPLOYER OF THE YEAR – Sponsored by OBXteK
Atkins
MILITARY PARTNER IN BUSINESS AWARD – Sponsored by Goldman Sachs
Lucy Mans – Family Rule
SMALL EMPLOYER OF THE YEAR – Sponsored by OBXteK
Inzpire – Hugh Griffiths
START-UP OF THE YEAR – Sponsored by Facebook
Toddle – Hannah Saunders
TECHNOLOGY BUSINESS OF THE YEAR – Sponsored by Amazon Web Services in association with TechVets
Senseon – David Atkinson
THE VETERANS' FOUNDATION AWARD – Sponsored by The Veterans' Foundation
Veterans' Launchpad
WARWICK BUSINESS SCHOOL – Sponsored by Warwick Business School
Mercedes Notton-Hill – Solstice Domestic Angels Ltd