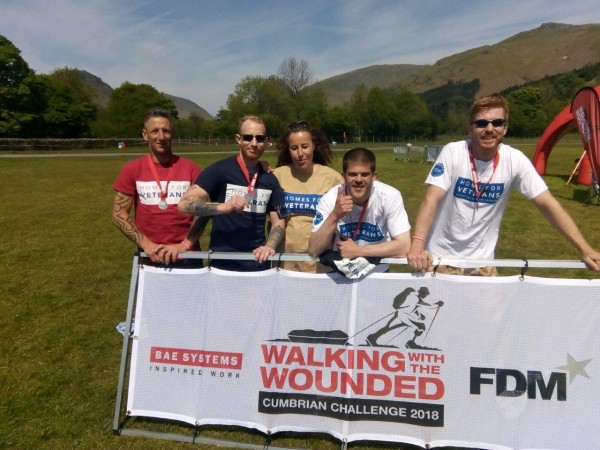 This weekend four former Alabaré Gloucestershire Homes for Veterans residents took on the daunting task of the Cumbrian Challenge in support of Walking With The Wounded.  The 23km tab took them up Lingmoor Fell and Blake Ridge, an elevation of around 5000ft and in temperatures of around 24 degrees, and whilst they completed against about another 100 teams, the four came first for a second year running as they completed the course in around 4 ½ hours.
Paul Bradley (Ex-Parachute regiment) John Clark (Ex-Rifles), Paul Newark (Ex-Grenadier Guards) and Mark Arnold (Ex-Royal Gibraltar Regiment) decided to run the course despite the temperatures.  Their enthusiasm to win came out in their competitive nature, however throughout the weekend they were determined to ensure that the message of the support that they had received from Alabaré and Walking With The Wounded was at the forefront of their minds.  They spent time as beneficiaries talking with individuals and businesses who were there to raise money for WWTW and the employment support the four have had over time.
Paul Bradley, now an Entertainer and Media advisor stated
"Without the support of the Gloucestershire Homes for Veterans and Tony (WWTW Employment Advisor) we wouldn't be where we are now.  We've all been through a lot, not just when we were serving but since becoming civilians. It's been a hard journey as we've had to deal with PTSD, other mental health issues and just work though where we fit on Civvy street".
John Clark is now is in full time employment as an engineer and aims eventually to run his own business.
"You've got to do a lot on your own, you have to be motivated but these charities really pick you up and support you, help you negotiate the system and give you your confidence back."
Supporting the team was Tony Lovegrove from RFEA and Walking With the Wounded; the Employment Advisor to our Gloucestershire Homes for Veterans, his role has been critical in enabling the four to re-gain skills from the Military and convert them to Civilian life, to learn new skills and secure employment.
"The Cumbrian Challenge 2018 saw our second win in four years of entering this Walking with Wounded annual challenge. The weather was brilliant this year, almost too hot to walk around let alone run, as our team did. The team was made up of veterans supported by myself and the Gloucestershire Home for Veterans. They were proud to have done this especially in the raising of awareness surrounding homeless veterans, supporting through empowerment of employment into independent living. Here's to looking forward to 2019"
Paul Newark is in full time employment and former resident, his journey through to employment took him on several qualifications and build his confidence,
"I've got so much to thank Tony for and the support Alabaré has given is great, I wouldn't be where I am now if it wasn't for the team at the Gloucestershire Homes For Veterans and Tony".
Mark is currently a resident and about to begin a self-build project, his first Cumbrian Challenge was such an experience, not just because of the run itself, but due to the close knit community and relationships between individuals and charities.
Each of the four have been homeless and have between them experienced PTSD, emotional breakdowns, family detachment and issues with debt, drug or alcohol and dealing with their negative emotions.  However all four have shown again this weekend an inner strength and resilience, a determination to stand as Ambassadors for the work that Alabaré does, as well as with other partner agencies such as WWTW and show how lives can be changed.
-Ends-
For more information or to arrange an interview call Harvey Taylor on 01722 344485.
Notes
At Alabaré we support people to overcome the barriers of homelessness, mental ill-health and learning disabilities in-order to have a home, health, choice and independence.
Alabaré Christian Care and Support provide the highest standards of accommodation and support to disadvantaged and vulnerable people in our communities in order that they can have a home, health, choice and independence. Since 1991, Alabaré have been working with people facing disadvantage through homelessness, mental ill-health, learning disability or a combination of these.  We provide housing and personalised support based on the individual needs and aspirations of each person, tackling underlying causes and giving them the skills and confidence to move forward with their lives.