The Defence Employer Recognition Scheme (ERS) is a Ministry of Defence run scheme which encourages employers to support the work of the Ministry of Defence, and inspire others to do the same. The ERS Gold award is the highest award of the scheme, recognising organisations who actively support the Armed Forces community in their workplace.
The Defence Medical Welfare Service (DMWS), alongside 50 other organisations, was honoured to receive notification of our Gold Award 2018. from Nigel Atkinson Esq, Lord Lieutenant of Hampshire and President of the South East Reserve Forces' & Cadets.
DMWS has a host of company initiatives and policies in place to encourage and support Service personnel in the workforce, including granting additional leave to Reservists so that they can fulfil their training requirements. DMWS signed the Armed Forces Covenant in 2014, and has always had forces-friendly environment with its workplace.
Paul Gaffney, the Chief Executive Officer of DMWS said: "It was fantastic news to hear that the Defence Medical Welfare Service has won the Gold Award, under the Employers Recognition Scheme run by the MOD as part of the Covenant."
"We are delighted with this award, as it coincides with our 75th anniversary year and highlights the support that we have given to veterans, reservists and a number of people that we employ within our staff and is a real recognition of what our welfare officers do across the Armed Forces Community."
A large number of our workforce come from an Armed Forces background and have thrived in our charity providing the skills that are critical to our work supporting serving, reservists, veterans and their families whilst they are undergoing medical treatment. Helping us to build a bigger, better support network for our Armed Forces community, highlighting a united commitment to our Armed Forces Covenant.
If you would like to find out more please visit our website at www.dmws.org.uk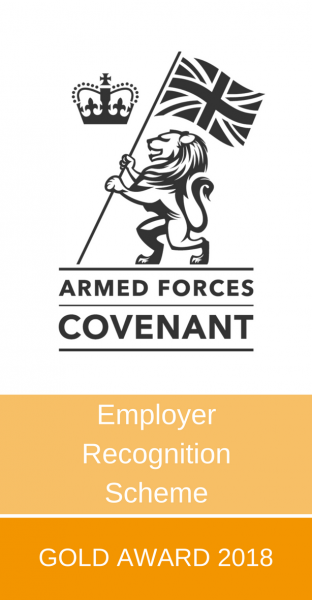 Notes to editors
For immediate Release
For further information on DMWS please contact Lesley Rattue, Fundraising & Marketing Manager on 01264 774 009 or email fmm@dmws.org.uk
Registered Charity in England and Wales (1087210) and in Scotland (SC045460)
The St John and Red Cross Defence Medical Welfare Service (DMWS) has been providing a person-centred medical welfare service to the Armed Forces Community since 1943. In that time we have supported over 1,000 000 patients and their families, ensuring that no one goes through the worry of injury and illness alone. Our highly trained welfare officers provide practical and emotional support to those receiving medical treatment. Recent new projects with organisations such as the police, the NHS and the probation service demonstrates the broad appeal of the organisation and its application to a wide set of frontline services. We are available 24 hours a day, 365 days a year.