F4H – Second Annual Leadership Forum: Tuesday 11 June 2019
5.30pm to 7.30pm Cavalry and Guards' Club, Piccadilly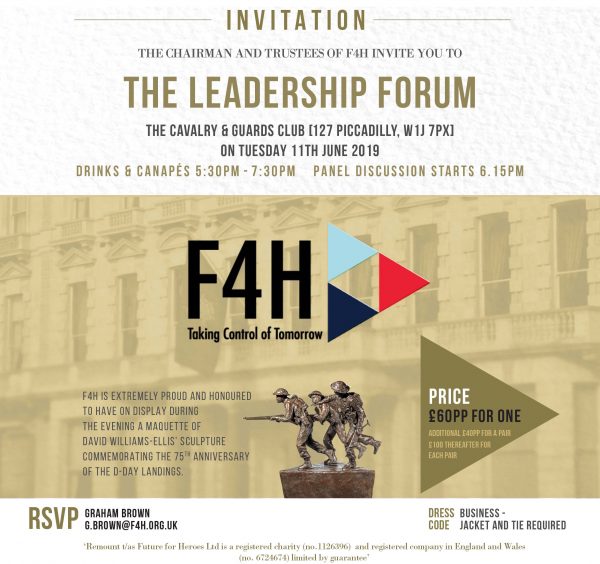 F4H is pleased to announce news of our second annual Leadership Forum, to be held at the Cavalry and Guards' Club in Piccadilly on 11 June. Beginning with drinks and canapés, the evening will continue with our speakers discussing their own brand of leadership and courage before then inviting guests to join in a general question and answer session. Last year's proved immensely informative and entertaining: Anton Oliver being candid about how when he took over as captain of The All Blacks during a losing streak (yes, they had one) he led them back to World Domination; or how a junior officer, later to become Commander-in-Chief Land Forces, 'learnt about leadership from that time when…'.
A fascinating insight to leadership and courage.
Our speakers this year include:
Roger Davis (our Chairman who will preside) – Non-Executive Chairman, BUPA
Dame Inga Beale – Former CEO, Lloyd's of London
General The Lord Houghton of Richmond GCB CBE DL – Former Chief of Defence Staff
Sam Shephard – GC Officer, Royal Marine Reserve
We will also have on show a maquette of David Williams-Ellis' D-Day Sculpture, a newly commissioned central artwork for the upcoming British Normandy Memorial overlooking 'Gold Beach', commissioned by The Normandy Memorial Trust.
Further details are attached but please email g.brown@f4H.org.uk for tickets (£60pp, £100 for 2) or more information.
Useful documents
Speakers' biography information