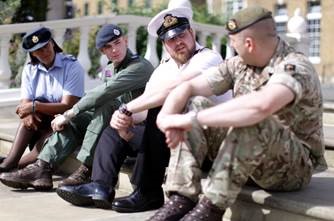 In a new partnership formally announced on 9th May, Forces Cars Direct has committed to making a donation to SSAFA, the Armed Forces charity for each car they sell.
Forces Cars Direct offer unique discounts on new cars for all serving personnel, veterans and Ministry of Defence staff. For those living in the UK there are savings of up to 30 percent and those stationed overseas can save up to 50 percent.
SSAFA provides vital support for members of the Forces, past and present and their families. From helping veterans who are coming to terms with life changing injuries or supporting families who have lost a loved one in battle, SSAFA works tirelessly to provide help and support for all members of the military family
Steve Thornton, Managing Director of Forces Cars Direct, said: "As ex-military myself, it has always been a core value of our company to give something back to the military community. I have witnessed the work of SSAFA many times during my Army career and through friends and family. I am proud to be working alongside such a great charity and am looking forward to further supporting the Armed Forces together."
Rebecca Keaveney, Commercial Manager at SSAFA, said: "SSAFA is delighted to be working with Forces Cars Direct, we are looking forward to our partnership supporting members of the Armed Forces community in need for years to come."
Anyone from the Forces community who is interested in purchasing a new car whilst supporting SSAFA should go to: www.forcescarsdirect.com
ENDS
About SSAFA:
SSAFA, the Armed Forces charity (formerly known as the Soldiers, Sailors, Airmen & Families Association), provides lifelong support to anyone who is currently serving or has ever served in the Royal Navy, British Army or Royal Air Force, and their families. This includes both regulars and reserves.
SSAFA, the Armed Forces charity, has been providing lifelong support to our Forces and their families since 1885. Every year our staff and team of volunteers help more than 60,000 people, from Second World War veterans to young men and women who have served in Afghanistan and Syria.
For more information visit www.ssafa.org.uk and follow us on Twitter: @SSAFA.