Sgt Ben Lukowski from Nottingham, a Royal Marines Commando living with a traumatic brain injury that has led to functional neuro-disorder, has taken delivery of a custom-designed recumbent tricycle that he will use in an attempt to cross 1,000-miles of remote desert in Australia, after parachuting into the country.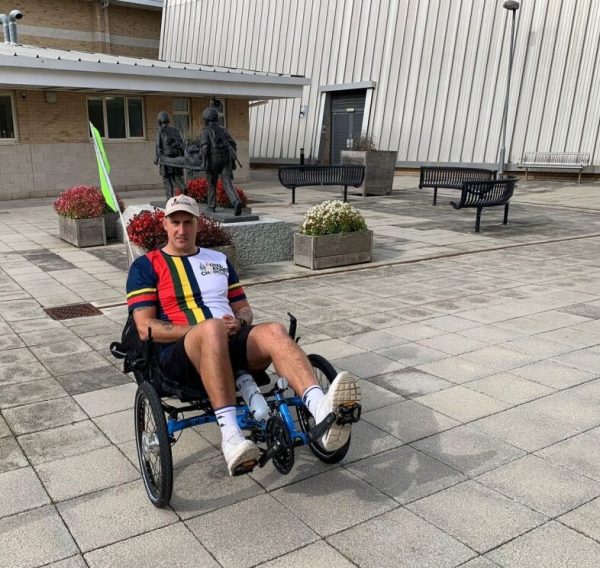 The cost of the trike, along with some of the associated costs, has been jointly funded by RMA – The Royal Marines Charity and the Royal Navy & Royal Marines Charity (RNRMC).
Ben sets off on 17 Oct 23 for the epic challenge with fellow Royal Marine, Aiden West from HASLER (The Royal Navy Recovery Centre), who is currently recovering from cancer.
Ben was involved in a road traffic collision and the serious brain injury he sustained has affected his speech and he also has limited muscular control down one side of his body. Ben has been making progress with his recovery, and in Feb this year, was second placed in the Wounded Warrior Trials Ultimate Champs in the United States of America, competing alongside United States Marine Corps personnel in recovery.
Organised by the 65 Degrees North charity, the challenge begins in earnest with a 10,000ft tandem parachute on to a beach before Ben, on the all-terrain trike along with Aiden and eight other beneficiaries from 65 Degrees North, head off into the wild and barren Australian Outback.
Ben said:
"It's an honour and privilege to be selected by 65 Degrees North, as well as Richie and his team for this challenge. I'd also like to thank the Royal Marines Charity as well as the RNRMC for their ongoing support. I am truly grateful for everything the team has done for me to make this expedition happen. I truly hope I can do repay their faith in me by completing this challenge." 
Danny Egan, Director of Health & Wellbeing with RMA – The Royal Marines Charity, said:
"We are pleased to have been able support Ben on this  particular challenge alongside RNRMC.

"We have worked on several projects with 65 Degrees North. They are a fantastic charity and we have seen many Royal Marines, like Ben, gain hugely from such experiences as part of their recovery pathway for mental and physical health.

"As the Royal Marines own charity, we will do all that is possible to help enable people to overcome adversity and not become defined by any disability. We wish Ben and his fellow adventurer every success on their venture."
RNRMC Head of Grants, Anne Carr, added:
"We are delighted to work alongside RMA- The Royal Marines Charity in supporting Sgt Ben Lukowski in his expedition across the Australian Outback. A true testament to his and his colleague's hard work and resilience, this expedition speaks to the power of coming together to achieve something great.

"We are so pleased that Ben has made progress in his recovery and wish him and his colleague the very best in their adventure."
The performance recumbent trike was made by Falmouth-based ICE Trikes and handed over to Ben at HMS DRAKE in Plymouth on 4 October by Phil Zschiesche, from the company's sales and marketing team.
Phil said:
"It was a privilege to present Ben with his trike in person for his epic Australian adventure he has planned. It is always inspirational to see amazing riders such as Ben take on challenges while using our trikes, also working with organisations and charities like the RMA – The Royal Marines Charity and the RNRMC. Good luck, Ben, on your amazing Australian adventure."