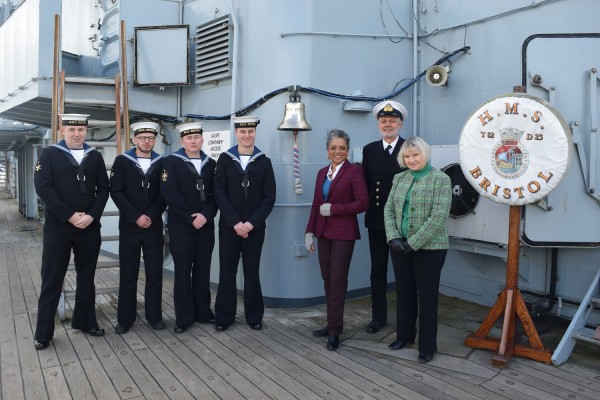 The Lord Major and Lord-Lieutenant of Bristol were special guests of the Royal Navy and Royal Marines Charity (RNRMC) at HMS Excellent last week.
The Right Honourable Councillor Lesley Jones and Mrs Peaches Golding OBE were given a tour of the RNRMC's offices before being welcomed on board their city's namesake HMS Bristol by Commanding Officer, Lieutenant Commander David Price.
Both guests were treated to a presentation and a tour on board the Royal Navy's training ship in Portsmouth.
The visit was organised to mark the connection between the city of Bristol and its namesake ship while furthering the relationship between the city and the RNRMC.
Guest, Peaches Golding OBE, has been the Lord-Lieutenant of Bristol since April 2017. She was awarded an OBE in 2009 for services to minority ethnic people in the South West. As Lord-Lieutenant of Bristol, she has a natural interest in ship-building and is also a trustee of SS Great Britain.
Speaking about her visit on board HMS Bristol, the Lord Lieutenant said:
"I think the HMS Bristol is absolutely fabulous. As a trustee of SS Great Britain, I enjoy the engineering of ships and the thing I like about the SS Great Britain is that the wonderful engine and screw system on board, is now used in every ship across Britain and the world."
Continuing, she explained why it is important for people to support charities like the RNRMC:
"It is incredibly important for people to support the RNRMC. You have people who said that they will give their lives for Queen and Country, and we need to look after them and their families.
"Whether they're in good health or ill, whether they're alive or not, we need to care about these people and the RNRMC do that."
One of those serving on board HMS Bristol is Bristol born, AB (WS) Matthew Tagg. Having joined the Royal Navy at 19, he did his standard training at both HMS Raleigh and HMS Collingwood before serving for a year and a half on HMS Daring.
Speaking about serving on board HMS Bristol and meeting the ships esteemed guests, AB (WE) Tagg said:
"It's a privilege to serve on HMS Bristol with the family background I have in the city of Bristol itself.
"It was also an honour to meet the Lord Mayor and Lord-Lieutenant today and to have them on board."
The ship, which is a Destroyer, was built in the late 1960s and saw action during the Falklands conflict. Today, she plays host to up to 17,000 visitors per year and continues to be a training and accommodation ship docked permanently alongside on Portsmouth's Whale Island.