The manager of a hotel in Weston-super-Mare for RAF veterans and their partners has made the final of a national care award.
Nick Rickwood, Manager of Flowerdown House in Weston-super-Mare.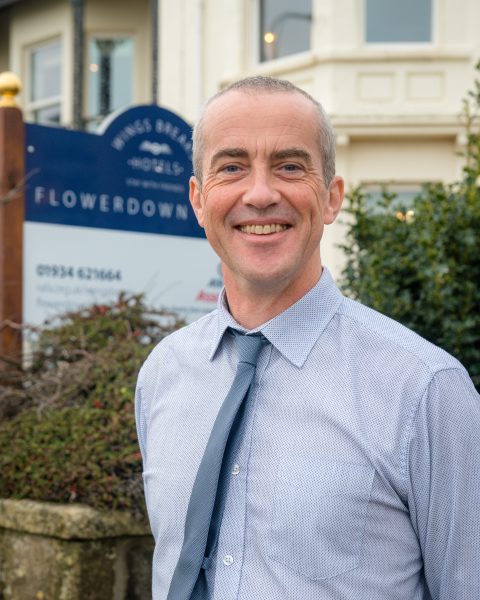 Nick Rickwood, Manager of the Royal Air Forces Association's Flowerdown House, was nominated for the Markel 3rd Sector Care Awards' Leadership Award.
He is one of three finalists for the award, which recognises achievements of individuals, care providers and community groups within the care sector.
Nick Rickwood said:
"It's a real privilege to have made the shortlist of these awards. My staff and I work tirelessly to make sure Flowerdown House is a place where veterans feel comfortable and at home when they visit us on a holiday break.

"The needs of our guests, which can include anyone who has served in the RAF and their immediate families, are varied and we are always looking to improve our services or bring in external partners to facilitate these needs."
The winners will be announced at an award ceremony presented by Rebecca Wilcox and Dame Esther Rantzen on Friday 6 December at the London Marriott Hotel.
The RAF Association is the charity that supports the welfare of RAF personnel, veterans and their families.
Flowerdown House can accommodate up to 35 guests in 18 single, double and twin rooms, with plenty of provision for people with disabilities, and offers live entertainment three nights a week, plus regular trips out in a specially adapted minibus.
For more information about Flowerdown House, visit https://www.rafa.org.uk/wingsbreaks/flowerdown-house/
Media contact: Alex Scoppie, 0116 268 8755 or email alex.scoppie@rafa.org.uk   
About the Royal Air Forces Association
The Royal Air Forces Association (or RAF Association) is a membership organisation and registered charity that provides welfare support to the RAF family.
The Association recognises that RAF personnel and their immediate families dedicate their lives to their country, and we believe that such a sacrifice should not result in suffering, poverty or loneliness.
Whether it's an injured airman or woman fighting to get back on their feet, a young child missing their parent away on overseas operations, or a World War II veteran needing a shoulder to lean on, we are here to help all generations of RAF personnel and their families.  We also support serving families if they need us. We give practical, emotional and financial support.
Our membership of 74,000 includes serving RAF personnel, veterans and members of the public who want to show their support for the work that we do.
Across the UK in 2017 the Association carried out more than 115,000 welfare contacts, calls and visits, helped tell thousands of bedtime stories to children whose parents were away on operations, and gave tailored holidays to 2,500 RAF veterans, widows and family at our Wings Breaks hotels.
Our support ranges from simply providing conversation and friendship to preparing and submitting application forms for financial assistance.
Charity numbers: 226686 (England and Wales), SCO37673 (Scotland).