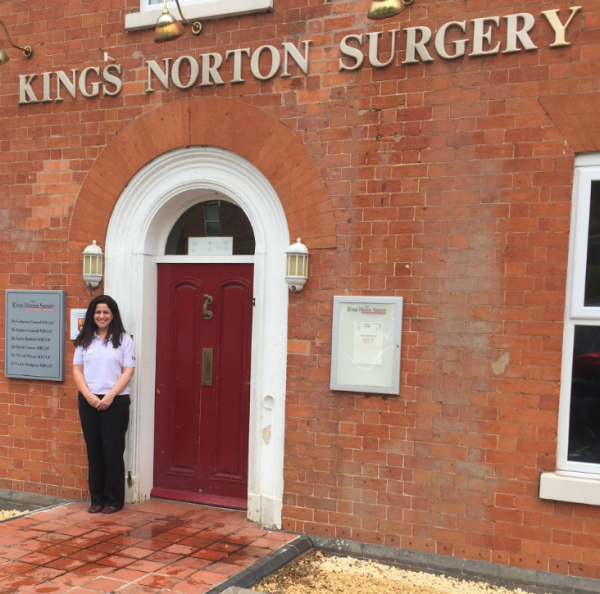 The Defence Medical Welfare Service (DMWS) is delighted to announce that the new Armed Forces Navigator Pilot Project has officially been launched on the 17 July 2017.
The pilot is being run in partnership with Birmingham Community Healthcare NHS Foundation Trust (BCHCFT), the Tavistock Institute and DMWS, and has been funded by the Forces in Mind Trust with the aims to better understand and support the health and social care needs of the Armed Forces community. The project will identify gaps in availability and accessibility of required services and raise awareness with local commissioners, to ensure there is appropriate consideration and planning into the future.
DMWS healthcare navigator, Sheila Herriotts, will lead and evaluate a one year pilot that sees a new model of care to support the Armed Forces community in Birmingham. The role will focus on improving awareness and support for this Community within the Primary Care sector, helping service users and strengthening links between the wider military community and GPs.
Sheila has only recently started in her role but has already met with several GP surgeries in Birmingham to promote the additional service available to serving personnel, veterans, reservists and their families. As a result, she is already supporting veterans who were referred to her within the pilot. Sheila has helped them access a range of health, social and third sector support that they either were not aware of or too afraid to approach.
The Armed Forces healthcare navigator role also aims to develop Primary Healthcare workforce training, which should include cultural aspects of service life to improve understanding of patients and their families from an Armed Forces background. More importantly, a comprehensive understanding of the wealth of support available is needed to tackle a range of challenges Armed Forces families may face following services – housing, education and employment.
Sheila said: "I am really excited and privileged to be part of this innovative project in Birmingham. To date everyone has been extremely receptive and supportive and I am confident the service will continue to be successful. I look forward to working in partnership with other agencies to deliver a seamless service providing the best possible outcomes for those who have served." 
Scott Thornton, Programme Manager from the BCHCFT said: "This is our first step in our journey to improve recognition and support for the Armed Forces Community of Birmingham. We are keen to ensure that those we support leave our service and go on to lead wholesome and fulfilling lives.  Working closely with all our partners we aim to make Birmingham the go to place after life in the Forces."
If you would like to find out more about the new Armed Forces Navigator Project or would like to receive support please contact DMWS healthcare navigator, Miss Sheila Herriotts, on 07721127782 or email: sherriotts@dmws.org.uk
About St John and Red Cross Defence Medical Welfare Service (DMWS)
DMWS has been providing a person-centred medical welfare service to the Armed Forces Community since 1943. In that time we have supported over 1,000 000 patients and their families, ensuring that no one goes through the worry of injury and illness alone. Our highly trained welfare officers provide support to serving Armed Forces personnel, Reservists, Veterans and their families when they are receiving treatment on a clinical care pathway. We are passionate about supporting the Armed Forces Community and aim to extend our experience to facilitate a co-ordinated multi-channel approach to integrated welfare in other arenas, such as GP practices to improve awareness and access to services.
The DMWS healthcare navigator will be deployed to GP practices in South Birmingham to raise awareness of the Armed Forces Community, engage the Primary care workforce and support those identified along their healthcare pathway. A Diploma in Welfare Studies and Mental Health First Aid Course (MHFA) is a fundamental part of the training at DMWS. www.dmws.org.uk
About the Forces in Mind Trust (FiMT):
FiMT came about from a partnership between the Big Lottery Fund ('the Fund'), Cobseo (The Confederation of Service Charities) and other charities and organisations. FiMT continues the Fund's long-standing legacy of support for veterans across the UK with an endowment of £35 million awarded in 2012. http://www.biglotteryfund.org.uk/.
The mission of FiMT is to enable ex-Service personnel and their families make a successful and sustainable transition to civilian life, and it delivers this mission by generating an evidence base that influences and underpins policy making and service delivery.
FiMT awards grants (for both responsive and commissioned work) to support its change model around 6 outcomes in the following areas: Housing; Employment; Health and wellbeing; Finance; Criminal Justice System; and Relationships. All work is published in open access and will be hosted on the Veterans Research Hub at Anglia Ruskin University, which is going live in Autumn 2017. A high standard of reportage is demanded of all grant holders so as to provide a credible evidence base from which better informed decisions can be made.
Useful links
Website: www.fim-trust.org
Reports: www.fim-trust.org/reports/
Who we have helped: www.fim-trust.org/who-we-have-helped/
Twitter: @FiMTrust
About the Mental Health Research Programme: www.fim-trust.org/mental-health/research-programme/
About Birmingham Community Healthcare NHS Foundation trust
Birmingham Community Healthcare NHS Foundation trust is committed to providing a holistic range of services to meet the needs of the diverse population of Birmingham and, in the case of many specialist services, to the wider West Midlands.
As part of that mission, a range of bespoke services are provided for the armed forces community and BCHC is proactively involved in several initiatives to support military veterans and their families. The Trust has been recognised as one of nine nationally designated veteran amputee rehabilitation centres in England.
The Trust aims to become an "armed forces community-friendly Trust" where we are better able to meet the needs of armed forces personnel, veterans, reservists and their families and help them to understand how the NHS can meet their expectations.
Our vision
Our work will support all the Armed Forces Community of Birmingham, in accordance with the Armed Forces Covenant, Armed Forces Corporate Covenant and NHS Constitution.
Our overarching vision is: 'To ensure that the armed forces community live longer, healthier and more fulfilling lives post service.'
We aim to become the beacon of best practice on how best to support Armed Forces Communities across the UK. Demonstrating how high quality, accessible, and seamless health and welfare can be efficiently delivered to support veterans and their families in transition, resettlement and beyond.'
http://www.bhamcommunity.nhs.uk/