Pioneering research into the effects of 'weekending' – non-operational separations – on Naval Service families has been unveiled by the Naval Families Federation at Admiralty House in London.
At a gathering of influential military and civilian supporters of the Royal Navy and Royal Marines, drawn from the Services, charities and industry, NFF Chief Executive Anna Wright said the new research indicated that the effects of weekending on spouses and children matched those of longer deployments, affecting relationships, spousal employment and general wellbeing.
With the Naval Service keen to recruit and retain the best talent to its ranks, this research will improve understanding of the families' perceptions of the challenges and opportunities they face, which can affect serving personnel, particularly as their place of work is often far from the family home.
Anna said:
"of the three Services, the Naval Service has the most separation in terms of military deployments. That is an issue in its own right.
"What is less well-known is that, of the three Services, the Naval Service also has the most non-operational separation."
Drawing on their own family experiences, Defence Secretary Gavin Williamson and First Sea Lord Admiral Sir Philip Jones both acknowledged the importance of families in the operational effectiveness of the Naval Service, and the challenges caused by such separations.
Mr Williamson noted that 'family' is an important concept in the Service, and thanked the NFF for undertaking the project.
He also told the audience, representing Naval Service families and their support network, that "we always recognise that you being stronger, our Armed Forces are stronger."
Speaking of the research, Admiral Jones said:
"Many aspects of Service life, including time spent away from home as a result of working for the Royal Navy, are not easily compatible with family life and I am acutely aware that we ask a lot of our people and their families too.

"We are constantly looking to improve the wellbeing of our Naval Service families and there is much work in progress with Royal Navy Royal Marine Welfare, NFF and the Service charities. However, we can only change things for the better if we have a clear understanding of what really matters to all who serve and the families upon whose unswerving support we all rely. So I really welcome this report by the NFF which provides really valuable insights on which we can act, and in so doing ensure that life in the Naval Service is as good as it can be for our people and their families."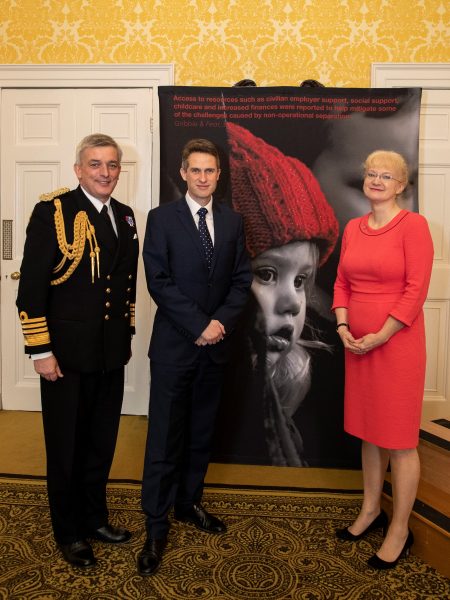 First Sea Lord Admiral Sir Philip Jones, Defence Secretary Gavin Williamson and Naval Families Federation Chief Executive Anna Wright at the launch of the ground-breaking research into non-operational family separation, at Admiralty House in London
The third guest speaker was NFF Homeport magazine columnist, blogger and Naval wife 'Olive Oyl', who gave her own take on separation from husband 'Popeye' in a sparkling speech that prompted laughter and knowing looks from many in the audience.
Summing up the findings, Anna said the challenges faced by families included difficulties in balancing careers with childcare while the partner is away, the placing of more responsibility on older children and a feeling of being under pressure to cram weekends with 'quality time' as a family.
Many spouses, said Anna, spoke of the sense of 'just coping' with the additional responsibilities, resulting in stress, anxiety and tiredness – though she reminded those gathered that Naval families are a resilient group, and there was no question of whingeing.
"So there we have it – we have an in-tray to tackle. The NFF are up for it, and we hope that you are too – our 'just-coping' families deserve no less."
The findings of the research – commissioned by the NFF and carried out by the King's Centre for Military Health Research (KCMHR), funded by Greenwich Hospital – will be used by the MOD, senior military personnel and military charities to help improve support for Naval Service families.
The report can be downloaded at https://nff.org.uk/wp-content/uploads/2019/02/Non-Operational-Separations.pdf
One immediate result of the project is the production by the NFF of a resource for parents and carers.
Titled 'A Guide for Parents and Adults Supporting Children and Young People', the publication – described by Anna as 'light-hearted and empowering' – was created by Bridget Nicholson of the NFF to offer strategies and encouragement for families affected by all forms of separation and those who support them; one finding of the research was that there is a general lack of appreciation that shorter separations still have a significant impact, and the booklet is in part designed to help address that.
The publication is available in hard-copy format from the NFF, or can be downloaded from https://nff.org.uk/wp-content/uploads/2019/02/Parental-Absence-Resource.pdf
Notes to editors:
For further information, contact Jane Williams at the NFF on 023 9265 4374 or jane.williams@nff.org.uk
The Naval Families Federation (NFF) is an independent charity that provides representation and advocacy for the families of Royal Navy and Royal Marines personnel.
The NFF, based at HMS Excellent in Portsmouth, speaks up for Naval Service families to organisations and stakeholders – including government, the Royal Navy and charities – whose policies and actions have an impact on the families.
It also commissions research and offers guidance on issues affecting Naval families, such as transition, wellbeing and spousal employment