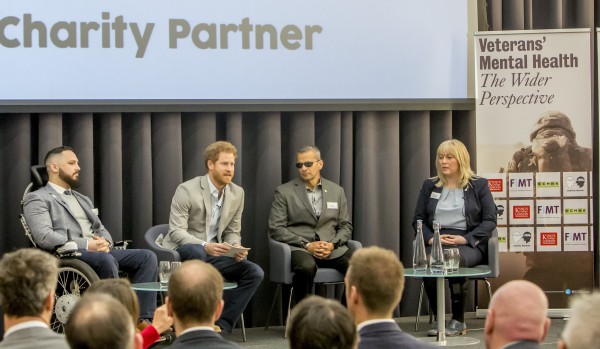 Leading veterans' mental health experts gathered today (Thursday 16th March) to discuss international perspectives on the mental health of the Armed Forces Community.  They were joined by Prince Harry at King's College London for the annual event, which for the second year running was sponsored solely by the Forces in Mind Trust (FiMT).
World-class speakers from leading UK and international institutions working in the field of veterans' mental health gave a series of wide-ranging presentations and hosted debates. Prince Harry led a panel discussion with three former members of the UK and US Armed Forces who spoke about their personal experiences of addressing and managing mental health challenges, and the importance of encouraging open conversations about mental health.
Prince Harry attended as part of the Heads Together campaign to change the conversation around mental health. Heads Together is a campaign spearheaded by Prince Harry and the Duke and Duchess of Cambridge.
The one-day conference, which this year was entitled, 'Veterans' Mental Health – The Wider Perspective', follows the success of the inaugural 'Veterans' Mental Health – Fact, Fiction and Future' conference of 2015, and 2016's 'Veterans' Mental Health – the Road Ahead'.
Hosted by the King's Centre for Military Health Research at King's College London, the event focused on issues ranging from the use of peers to improve treatment-seeking and the mental health of and support for Service families, to whether veterans' mental health care should be part of mainstream services. Speakers from the United States, Canada, and Europe also highlighted their country's perspective on veterans' mental health.
The event was sold out weeks in advance with over 200 guests attending. Speakers from the public health, academic and Service charity sectors provided expert insights and latest research findings, including:  Capt US Navy (Rtd) Robert Koffman, Semper Fi Fund and Warrior Canine Connection, on the therapeutic benefits of animals to improve veterans' mental health; and Professor (Col) Eric Vermetten, Leiden University, on genetics and other novel therapies in the mental health of service veterans.
Ray Lock, Chief Executive of the Forces in Mind Trust, said: "We are delighted that HRH Prince Harry attended and participated in this year's Veterans' Mental Health Conference, and welcome the 'Heads Together' campaign's contribution to tackling the stigma surrounding mental health.  Overcoming stigma and preconceived negative ideas about mental health is a vital element in improving veterans' mental well-being.  We are once again proud to have been sole sponsor of this important annual knowledge sharing and networking event."
Professor Neil Greenberg from King's College London said: "We set up this annual conference three years ago in order to provide high quality evidence and informed debate at a reasonable cost for those interested in this important topic. We were delighted to welcome HRH Prince Harry to the conference this year as well as a range of other excellent speakers. Once again the event was completely sold out, which highlights how much interest there is in understanding 'what the truth is' in what can sometimes be a rather poorly understood subject. We are highly appreciative that the Forces in Mind Trust agreed to sponsor the event again and the whole of the King's Centre for Military Health Research team remains proud of the work we do to improve the lives of service personnel, serving or retired, and their families."
The full programme for the day was as follows:
Welcome from Professor Sir Simon Wessely, President of the Royal College of Psychiatrists
Panel talk with Prince Harry, Caroline Buckle, Ivan Castro, and Philip Eaglesham
'Veterans' Mental Health – A US Perspective', Col Matthew Amidon USMC, The George W Bush Institute, Dallas, USA
'Veterans' Mental Health – A Canadian Perspective', Professor Alice Aiken, Dalhousie University, Canada
'Veterans' Mental Health – A UK Perspective', Col (Rtd) David Richmond CBE, Contact, UK
Debate: "This house believes that Veterans mental health care should be part of mainstream services", Kate Davies OBE, NHS England and Sue Freeth, Combat Stress
'The mental health of service families', Professor Nicola Fear, the King's Centre for Military Health Research, King's College London
'Providing support for service families', Antony Baines, the Royal British Legion
'Treatment seeking, or lack of, of UK ex-Service personnel', Dr Sharon Stevelink, the King's Centre for Military Health Research, King's College London
'The treatment of ex-Service personnel affected by complex trauma', Dr Dominic Murphy, Combat Stress
'The use of peers to encourage ex-Service personnel to seek mental healthcare', Charlie Allanson-Oddy, NHS Lothian
'The therapeutic benefit of animals to improve Veterans' mental health', Capt US Navy (Rtd) Robert Koffman, Semper Fi Fund and Warrior Canine Connection, Washington DC
'Genetics and other novel therapies in mental health of service veterans', Professor (Col) Eric Vermetten, Leiden University, the Netherlands
'Summing up and moving forward', Professor Neil Greenberg, Royal College of Psychiatrists
ENDS
Notes to Editors
Ray Lock is available for interviews.  To arrange an interview please contact Kate Turner at kturner@theproffice.com or on 07919 887 036 or 0207 284 6944.
About the Forces in Mind Trust (FiMT):
FiMT came about from a partnership between the Big Lottery Fund ('the Fund'), Cobseo (The Confederation of Service Charities) and other charities and organisations.  FiMT continues the Fund's long-standing legacy of support for veterans across the UK with an endowment of £35 million awarded in 2012.  http://www.biglotteryfund.org.uk/.
The mission of FiMT is to enable ex-Service personnel and their families make a successful and sustainable transition to civilian life, and it delivers this mission by generating an evidence base that influences and underpins policy making and service delivery.
FiMT awards grants (for both responsive and commissioned work) to support its change model around 6 outcomes in the following areas: Housing; Employment; Health and wellbeing; Finance; Criminal Justice System; and Relationships.
All work is published in open access and hosted on the Veterans' Research Hub.  A high standard of reportage is demanded of all grant holders so as to provide a credible evidence base from which better informed decisions can be made.
Useful links
About King's College London – www.kcl.ac.uk
King's has an outstanding reputation for world-class teaching and cutting-edge research. In the 2014 Research Excellence Framework (REF) King's was ranked 6th nationally in the 'power' ranking, which takes into account both the quality and quantity of research activity, and 7th for quality according to Times Higher Education rankings. Eighty-four per cent of research at King's was deemed 'world-leading' or 'internationally excellent' (3* and 4*). The university is in the top seven UK universities for research earnings and has an overall annual income of more than £600 million.
King's has a particularly distinguished reputation in the humanities, law, the sciences (including a wide range of health areas such as psychiatry, medicine, nursing and dentistry) and social sciences including international affairs. It has played a major role in many of the advances that have shaped modern life, such as the discovery of the structure of DNA and research that led to the development of radio, television, mobile phones and radar.
King's College London and Guy's and St Thomas', King's College Hospital and South London and Maudsley NHS Foundation Trusts are part of King's Health Partners. King's Health Partners Academic Health Sciences Centre (AHSC) is a pioneering global collaboration between one of the world's leading research-led universities and three of London's most successful NHS Foundation Trusts, including leading teaching hospitals and comprehensive mental health services. For more information, visit: www.kingshealthpartners.org.
King's fundraising campaign – World questions | King's answers – created to address some of the most pressing challenges facing humanity has reached its £500 million target 18 months ahead of schedule. The university is now aiming to build on this success and raise a further £100 million by the end of 2015, to fund vital research, deliver innovative new treatments and to support scholarships. The campaign's five priority areas are neuroscience and mental health, leadership and society, cancer, global power and children's health. More information about the campaign is available at www.kcl.ac.uk/kingsanswers.