Sport and Service are inextricably linked, and both can present enormous challenges. This is precisely why the Sporting Excellence category of the Soldiering On Awards exists.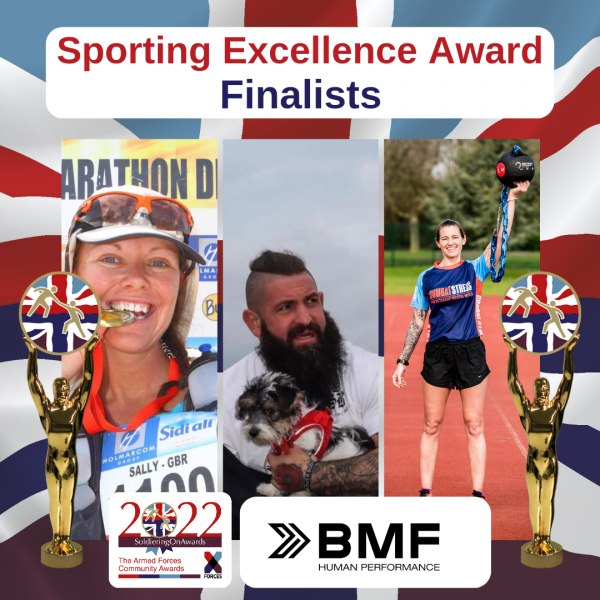 It honours those who have overcome challenges in pursuit of sporting excellence, demonstrated outstanding achievement in the field of sport, and contributed to the endeavours and advancement of the Armed Forces Community.
This category is always one of the most hotly contested and, unsurprisingly, there have been some truly extraordinary winners of the award. This year is no different. Our amazing 2022 finalists are:
Sally Orange
Mark Tonner
Sergeant Naomi Benson
Ivan Rowlatt, Managing Director of BMF Human Performance said:
"BMF is extremely proud to be supporting the Soldiering On Awards and the fantastic 2022 Finalists. To be selected as a finalist amongst an incredibly high standard of nominees is an achievement for which they should be extremely proud. The finalists are all excellent role models, not just for the Armed Forces community, but for the country as a whole".
The winner of the Sporting Excellence Award will be chosen by YOU through a public vote, opening on 1 August. There are many ways in which sporting success can be measured and any of our finalists would make an extremely worthy winner: each has overcome seemingly insurmountable obstacles; each has achieved remarkable sporting feats. On Monday, we place the decision in your hands.
So, read their stories, watch their videos and cast your vote. However, you can only vote once, so make it count…and please do spread the word!
Vote here: https://soldieringon.org/soa-2022-sporting-excellence-award-public-vote/