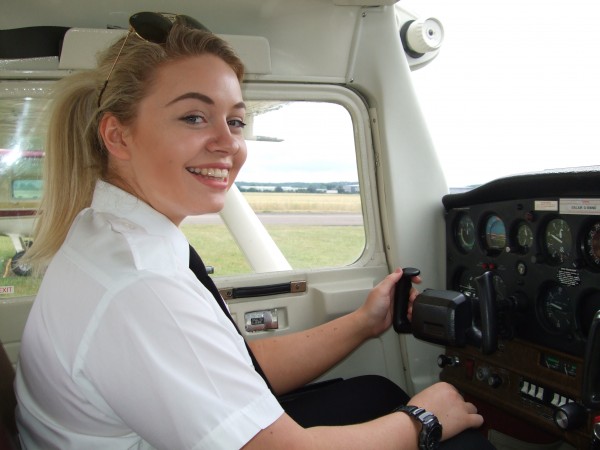 The RAF Association is opening its Flying Scholarship awards for the eighteenth year to grant six exceptional young people the chance to fly.
So far, 99 air cadets have benefited from the programme, with the 100th cadet due to be among the 2018 finalists.  The best of the 2018 applicants will be rewarded with a course of 35 hours flight training in a light aircraft. Five 'runners-up' will receive 12 hours training each. The Flying Scholarship programme runs annually as a thank you from the RAF Association to members of the RAF Air Cadets for their continuous support of the charity's fundraising.
All of the 2017 winners achieved solo flights by the end of their week of training. Cadet Sergeant Esmée Webley of 2522 (Bedlington) Squadron won the main scholarship and flew to France and Northamptonshire during her lessons: "As soon as you get up in the air, you have a whole new perspective of the world, it's quite a liberating feeling. You feel fully in control of yourself, just looking down on everything. I applied last year and wasn't successful, so I think the message is don't give up. The amount you can achieve in one year with the ATC can really push forward your application. Just keep trying." Esmée has now gained her full Private Pilot's Licence and hopes to join the RAF in an aircrew role. Once she has left sixth form college she hopes to fly the Chinook or Boeing C17 as a career.
Scholarships are worth £7,905 and £2,404 and are open to members of the RAF Air Cadets, Combined Cadet Force (RAF), Girls Venture Corps Air Cadets and Air Explorer Scouts.
Application forms can be found at www.rafa.org.uk/flying-scholarships. The deadline for entries to be received is 31 January 2018. Full terms and conditions and application forms can be downloaded from the website.
A video of one of 2017 'runner up' Karol Kubic's lessons can also be seen at www.rafa.org.uk/flying-scholarships.