Come and meet the principal charity of the Royal Navy on 2 August at the Television Centre and White City Place in London.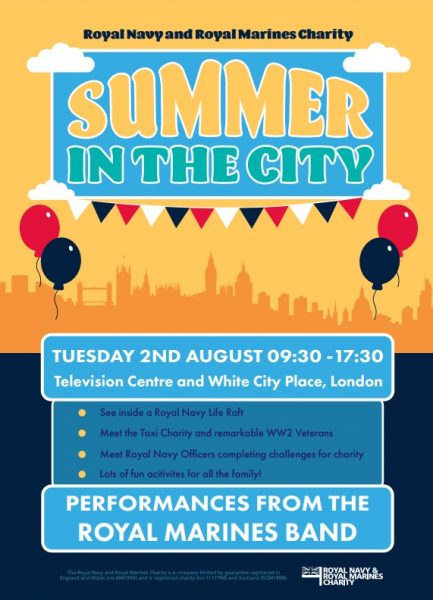 We have been presented with the opportunity to showcase what the Royal Navy and Royal Marines Charity (RNRMC) is all about through a whole day open-space event.
It promises to be a fun-filled day packed with activities, including performances from the world-renowned Royal Marines Band, appearances from some of our most prominent fundraisers and a visit from our friends at the Taxi Charity for Military Veterans, who will be accompanied by remarkable WW2 veterans.
We will be at the Television Centre from 09:30 to 17:30.
The programme of the day is as follows:
Performances from the world-renowned Royal Marines Band.
Sit inside a Royal Navy Life Raft and learn how we've converted these into bags through our upcycling project.
Meet the Taxi Charity For Military Veterans and remarkable WW2 veterans.
Get to know amazing Naval Officers undertaking epic fundraising challenges for charity.
Find out about the work we do to support sailors, marines, veterans, and their families.
Alicia Burnett, Corporate Partnerships and Events Manager at RNRMC, said:
"We are delighted to have this opportunity to host a family fun day to raise vital funds and share the work of the charity. We have a vision of a world in which our sailors, marines and their families are valued and supported for life. Events like this help to make that vision a reality. Please do come and say hello and find out more!"