The Prime Minister has commissioned Mark Francois MP to produce an independent report to improve retention within the Armed Services. The Naval Families Federation (NFF) was delighted to host Mr Francois and his team, along with a group of Service spouses, partners and dual serving couples at HMS EXCELLENT on Thursday 23 May.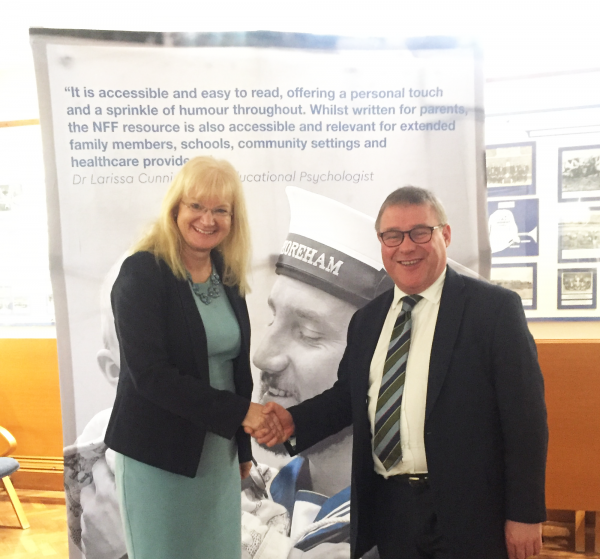 To collect evidence for 'Stick or Twist', an independent report on retention, Mark Francois MP and his research team visited multiple Naval Service agencies in Portsmouth on Thursday 23rd May. They joined the Naval Families Federation (NFF) and over a dozen dual-serving couples, Service spouses and partners to listen to their 'lived experience'.
With the Armed Forces keen to retain the best talent, this research will provide insights to understand how to create an environment that ensures better retention of Service people, an objective that has been set out by 10 Downing Street.
One of the pressing issues highlighted related to childcare and education; there were questions about the use of Service Pupil Premium and concerns were raised about the cost of childcare and its relation to spousal employment.
Another theme focused on the implementation of Flexible Service. Some of the families told the team that whilst they appreciate that policy is now in place, it is unrealistic for certain branches within the Naval Service to apply, as operational needs take priority.
Finally, pressure on family life was discussed with some spouses describing that the 'weekending' lifestyle coupled with the uncertainty of Service commitments has impacted on family functioning and their mental health.
Anna Wright, CEO of the Naval Families Federation, said:
''Following the very constructive visit of Andrew Selous MP last month, we wanted to give our families the opportunity to talk directly to Mr Francois and his team about their experiences. We are delighted that this meeting has opened up the conversation between Naval Service families and the government.

"Of the three Services, the Naval Service has the most separation in terms of military deployments as well as non-operational separation. Recent research confirms what families have told us – that the Naval 'weekending' lifestyle could affect family-functioning and Service partners' mental health and career progression. We look forward to seeing these and other issues related to retention addressed in the forthcoming 'Stick or Twist' report."
'Stick or Twist' is now calling for evidence from serving people and their families and from those who have recently left the Armed Forces, as well as from providers of services to Armed Forces families in the statutory, voluntary and charity sectors. Submissions should be made by 00:00 on 31st May 19. Please visit this page for further information.

Notes to editors:

The Naval Families Federation (NFF) is an independent charity that provides representation and advocacy for the families of Royal Navy and Royal Marines personnel.

The NFF, based at HMS Excellent in Portsmouth, speaks up for Naval Service families to organisations and stakeholders – including government, the Royal Navy and charities – whose policies and actions have an impact on the families.

It also commissions research and offers guidance on issues affecting Naval families, such as transition, wellbeing and spousal employment.