Soldiering On Awards are delighted to announce the launch of the 2018 Awards – which this year will include 3 exciting new business categories in partnership with X-Forces.
The official launch took place at a recent reception held at MoD Main Building, Whitehall. It was sponsored by Thales UK and had Awards Patron the Rt Hon Earl Howe PC, Deputy Leader of the House of Lords and Minister of State for Defence in attendance.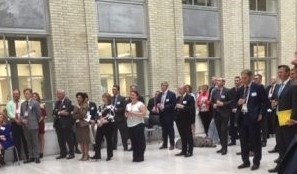 Amongst the reception guests were, Secretary of State for Defence Sir Michael Fallon, Vice Chief of the Defence Staff, General, Sir Gordon Messenger, Minister of State for Defence, Mr Mark Lancaster, Awards President and co- Chair of Judges, General the Lord Dannatt GCB, CBE, MC, DL., representatives from Cobseo, many Armed Forces Charities, previous Awards-Winners and Award Sponsor companies.
The Awards categories for 2018 will be:
Family Values Award
Healthcare and Rehabilitation Award
Sporting Excellence Award
Inspiration Award
Forces in Mind Trust Working Together Award
International Award
Animal Partnership Award
Lifetime Achievement Award
People's Choice Award – voted on by the general public in conjunction with the Sunday Express
Outstanding Contribution Award – awarded at the discretion of the Awards Trustees
The X-Forces Business Awards

Business of the Year Award – Start Up
Business of the Year Award – Scale Up
Business of the Year Award – Community Impact
Earl Howe said: "Who can fail to be enthused by the irrepressible spirit and inspiring accomplishments of all those the Awards recognise; veterans and civilians from all walks of life, who work together so effectively, to improve the lives of so many. I encourage all to nominate anyone who they consider worthy of recognition for their support of the Armed Forces Community"
Tal Lambert MBE Chairman, Soldiering On Awards said: "Now into our 8th year the Soldiering On Awards go from strength to strength! We are delighted to be announcing the opening of nominations for the 2018 awards including announcing our partnership with X-Forces to provide an exciting new Business Awards section recognising the entrepreneurial achievements of former members of the Armed Forces Community."
Ren Kapur MBE; Founder and CEO X-Forces said: "the Soldiering On Awards provide an instrumental platform to celebrate the success of our armed forces community across many sectors.  In launching the X-Forces Business Awards, in partnership with Soldiering On Awards, we are recognising the courage and skills of individuals from the armed forces community who have taken the leap into entrepreneurship."
WHO DO YOU KNOW ?
For more information about the Soldiering On Awards, and to see a short video of the 2017 Awards ceremony visit www.soldieringon.org