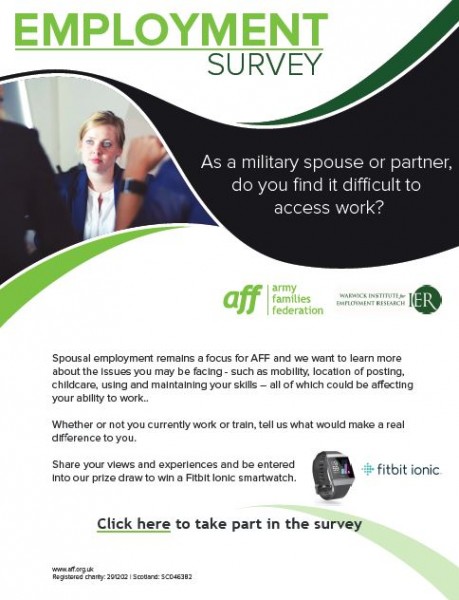 The Army Families Federation (AFF) has long championed spousal employment, with a continual flow of spouses and partners approaching the charity to highlight the challenges they face gaining and maintaining employment.
New AFF Survey
AFF is now running a new survey to help them delve deeper into those challenges, examining what would make a real difference to those affected, and to what extent military life influences a spouse's career.
The employment challenge
Armed Forces spouses and partners can find it difficult to access employment for a number of reasons. Elements of the Forces remain very mobile and many are still based overseas or in rural locations in the UK, which can make access to employment difficult. AFF is also aware that childcare remains a huge challenge for many, in terms of provision and cost, with families often not being able to rely on wider family for support.
The charity also says that some spouses can find it difficult to upskill or maintain professional credentials and in some cases, find their qualifications are not accepted in certain countries, for example, teaching in Scotland. Unfortunately, this is sometimes further exacerbated by non-supportive employers, who do not wish to invest in military spouses.
Spousal input vital
Louise Simpson, AFF Policy and Research Director said: "A number of initiatives have been introduced to help spouses into employment, such as RBLI Lifeworks, Recruit for Spouses, the University of Wolverhampton's Supporting the Unsung Heroes programme, and our own employment pilot with Manpower in 2017.
Our employment research will ask spouses and partners to talk to us about their experiences, enabling us to discover the most successful methods of supporting and maintaining them into jobs and careers. We also want to find out what else they feel will assist them in accessing and remaining in their chosen line of work."
Share your experience
All military families are encouraged to take part in AFF's latest survey, whether or not you are working, or wish to work or train. AFF is keen to hear both sides and learn more about your reasons for working or not, as well as what impact this has on you and your family.
To take AFF's survey and have your say, visit: https://warwick.co1.qualtrics.com/jfe/form/SV_3XaTG4pYRGf0qlT
To find out more about AFF and the work they do in support of military spouses and partners, go to www.aff.org.uk
ENDS
Notes to Editor:
The Army Families Federation (AFF) is the independent voice of Army families: Regular or Reserve, wherever they are based, whatever the make-up of their family.
Throughout the UK and overseas, AFF works hard to achieve policy change and progress in favour of Army families; they offer advice and guidance on all aspects of Army life, confidentially and in an easy-to-digest way.
They work with other agencies such as MOD, government, charities and other key players to strengthen their cause and fight for a fair deal for families everywhere.
Their family-focussed website (aff.org.uk) contains information about all aspects of Army family life, and their Facebook, Twitter and Instagram pages offer families other easy ways to contact us, interact with us, or simply follow the work we are doing.
AFF operates by four core values, which are pivotal to our work. These are:

AFF always puts families first
AFF can be trusted
AFF is bold and determined
AFF is inclusive
Media Contact:
For more information about AFF's work, contact Donna Bernard, AFF Comms & Marketing Director, at commsmarketingdirector@aff.org.uk