The awards, now in their 13th year, celebrate the very best of the Armed Forces community, across a diverse spectrum of twelve categories from Healthcare and  Rehabilitation to Business of the Year and Animal Partnership. The Soldiering On Awards aim to shine a light on ordinary people doing extraordinary things.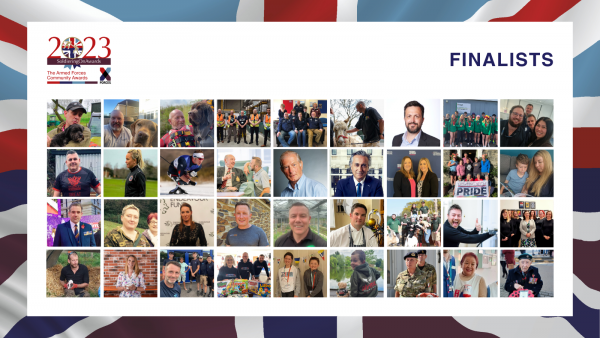 Awards Chair, General the Lord Dannatt GCB CBE MC DL and Co-Chair Debra Allcock-Tyler, CEO at the Directory of Social Change, led a distinguished panel of  independent judges who chose from an outstanding field of nominations to select a shortlist of 36 finalists: three per category.
A private reception to celebrate the finalists will be held at the House of Lords on 18th July, hosted by Awards Patron the Rt Hon Earl Howe PC. The winners will be announced at a glittering black-tie event hosted by special guest presenter Jeremy Vine at the Park Plaza Hotel, Westminster Bridge on Wednesday 27 September 2023.
Public voting will determine the winners of three categories; the Animal Partnership Award, the Sporting Excellence Award and the Inspiration Award online vote will open on 18 July and close on 6 August.
Voting will take place at www.soldieringon.org.
Awards Patron, the Rt Hon Earl Howe PC said:
"It brings me great pride to announce the finalists of the 13th annual Soldiering On Awards. These remarkable individuals, projects and organisations have exemplified passion and unwavering commitment to progress and excellence, embodying the core values that our Armed Forces are known for. They are now deserving recipients of this distinguished recognition on behalf of the nation and we wholeheartedly applaud them all."
Chair of the Independent Judging Panel, General the Lord Richard Dannatt GCB CBE MC DL said:
"I would like to express my appreciation to everyone who has contributed to this immensely valuable endeavour; to the judges for generously dedicating their precious time to carefully choose the Finalists and to all the nominators and nominees for their outstanding efforts in presenting these stories, every one of which showcased impressive talent, dedication, and achievements. These Awards embody the true spirit of this special community, and I congratulate this year's thirty six finalists, who serve as exemplary role models for each and every one of us."
X-Forces Enterprise CEO, Lt Col Ren Kapur MBE said:
"Having the privilege of being involved in this field, we know the military community is full of incredible people who go above and beyond to serve their communities, far beyond the boundaries of their duty, but these are often also some of the most modest. This is precisely why the Soldiering On Awards hold such significance – to illuminate and magnify these extraordinary stories, giving them the national recognition they truly deserve. Congratulations to all the finalists of 2023!"
Animal Partnership Award – in partnership with Pets at Home (Public Vote)
An award to honour the unique relationships and companionship provided by animals, and/or the achievements of individuals or organisations engaged with animals that support and empower members of the Armed Forces community.
Battling On's Veterans and Milo their Care Dog
Battling On's veteran members rely on care dog Milo to act as their anchor and friend as they share their pain on the road to recovery.
Jonathon Giemza-Pipe and Baxter
Jonathon Giemza-Pipe's canine partner Baxter has provided wonderful companionship to help get Jonathon's life back on track in a new role as a Veterans' Peer Support Worker.
Pete Lewin Newfoundlands
Pete Lewin Newfoundlands is a non-profit organisation offering emotional support to emergency services and military veterans struggling with their mental health.
Education, Training & Development Award – in partnership with Capita
An award to honour excellence in the provision of; vocational education, training or skills development. This may be in the fields of; preparatory, ongoing or transitional development for members of the wider Armed Forces Community. The provision could
be delivered by an individual, team or organisation.
BFBS Academy
BFBS Academy provides high-quality vocational training in digital communications and media production and the courses are available to all British military veterans.
Newtown Army Cadet Force – Gwent & Powys ACF
Newtown Army Cadets provides a service to 40 young people in the local community, ranging from 12-18 years, both male and female and over the years it has helped over 300 young people.
TechVets
TechVets helped over 200 military leavers and families find meaningful careers in 2022, providing £30k of free specialist IT training with partners Safestack, Defence Digital, Cisco, and Cybrary.
Family Values – in partnership with Right Management
An Award to honour a person, family or group whose selfless commitment, dedication and support for others in the Armed Forces Community ensures that they are cared for, supported or helped. This selfless act is therefore a shining example to society.
Military Assistance Social Hub
Military Assistance Social Hub is a group in Bridlington, Beverly and Withernsea which provides a regular meeting place and activities for veterans, their families and friends, thus reducing social isolation.
Mutual Support
Mutual Support is a non-profit organisation, run wholly by volunteers, providing support for military personnel, veterans, and their dependants living with Multiple Sclerosis.
Phoenix Heroes CIC
Phoenix Heroes CIC has helped over 600 veterans and families since its foundation, committing over 32,000 voluntary hours to a community that stretches across the UK.
Healthcare & Rehabilitation Award – in partnership with Redwood Technologies Group
An award to honour a person or team that has demonstrated a major commitment and contribution in support of the physical or mental welfare of serving or former members of the armed forces community. This may be through healthcare, therapeutic treatment or rehabilitation services and support.
Blind Veterans UK Brighton Centre
After over 80 years of care and rehab, transforming the lives of tens of thousands of people, Blind Veterans UK Brighton Centre will be moving to a new home along the Sussex coast.
Col (Retd) Anthony Gauvain, PTSD Resolution 
On leaving the Army, Tony Gauvain wanted to widen the access to treatment for mental health and trauma therapy for veterans, reservists and their families, and established PTSD Resolution.
Dr Aamer Khan
Dr Aamer Khan is a skin specialist who provides free-of-charge medical treatment, including reconstructive surgery, to severely wounded veterans, particularly those with facial disfigurement or burns.
Defence Inclusivity Award – in partnership with Landmarc
An award to honour the commitment and achievements of an individual, team or organisation in delivering greater diversity and inclusion within UK defence and the Armed Forces community.
Jodie Evans and Natalie Maddox-Hussain
Jodie Evans and Natalie Maddox-Hussain (Defence Women's Network) came together to tackle both diversity and inclusion in Defence in a collaborative, open, and imaginative way.
Fighting With Pride
Despite the immense challenge of starting a charity during a pandemic, Fighting With Pride has given a voice to the LGBT+ community, making its case with dignity and respect.
Talula Grey
Talula Grey, the pen name of Bianca Robbins, coped with her husband's deployments by penning a children's book inspired by her son to support the emotional wellbeing of children with a parent in the Navy.
Inspiration Award – in partnership with NatWest (Public Vote)
An award to honour a person that has overcome significant challenges, injury or disability, and whose ongoing or past outstanding achievements are an inspiration to others within the Armed Forces community. The judging panel will select a shortlist of three entries to progress to the final public vote.
Mark Harding
Mark Harding was shot by a sniper in Afghanistan but after three years of intensive hospital treatment, he undertook challenges to raise thousands of pounds for ABF The Soldiers' Charity.
Jacqui Swan-De La Maziere
Jacqui Swan-De La Maziere was dismissed from HM Forces for being gay in 1992. Since then, she has been a passionate campaigner for restorative justice, taking a legal test case to the European Court of Human Rights.
Natasza Telfer
Natasza (Tash) Telfer lives with unimaginable pain after injury in Iraq but has an unwavering determination to take the label 'disabled' and turn it into 'enabled' by using her indestructible will to inspire others.
Sporting Excellence Award – in partnership with Amazon (Public Vote)
An award to honour a person that has overcome challenges in pursuit of sporting excellence, demonstrating outstanding achievement in the field of sport and contributing to the endeavours and advancement of the Armed Forces community.
Glyn Barrell
Glyn Barrell was medically discharged from the Army due to multiple complex injuries but refuses to let his limitations limit his options and adventures. Sport is now his passion with the Purple Warriors Charity.
Sgt Jade Ives
Sgt Jade Ives is an Army medic and member of the Army Medical Services Ladies Football team. Despite a severe back injury, she defied the odds to get back to playing the sport she loves.
Scott Meenagh 
Former Para Scott Meenagh was widely tipped for a successful professional rugby career but lost both of his legs after stepping on an improvised explosive device in Helmand Province. He lives his life to honour the courage of those who saved him.
Working Together Award – in partnership with Forces in Mind Trust
An award to honour a group of people, team or organisation that has demonstrated an enduring commitment to a collaborative approach, engaging with others to support the sector within the wider armed forces community.
Battling On
Battling On was established in 2012 to provide wrap around care and support to veterans struggling in civilian life. They also support other charities, on average provide over 5000 volunteer hours.
Help for Heroes Recovery College
Help for Heroes Recovery College works with medical professionals, charity partners, as well as veterans and their family members with lived experience, to co-produce and co-deliver courses.
RE:ACT Technical Team NHS
Team RE:ACT have achieved so much in the 29 Months they have been together, growing to a group of 148 veterans working in support of the NHS and raising over £1.8m for veteran causes.
Business Start Up Award – in partnership with GKN Aerospace
An award to honour an individual or group of individuals linked with the Armed Forces community who have started a successful  new business venture within the last two years (since January 1st, 2021) and who still retain a minimum of 50% interest in the venture.
AlphaOne Electrics
Daniel Sylvester started AlphaOne Electrics in response to the growing demand for sustainable energy and is now making a huge impact in Cornwall through electric vehicle and solar panel installations.
Carma Earth
Jim Holland founded Carma to remove 1bn tonnes of CO2 from the atmosphere by enabling consumers to buy packages where trees are planted by veterans with PTSD.
The Chocolate Soldier
Phill Jones' company The Chocolate Soldier provides high quality handmade chocolates using ethically sourced raw ingredients and, to date, has produced over 12000 individual chocolates.
Business Scale Up Award – in partnership with LSEG Foundation
An award to honour an individual or group of individuals linked with the Armed Forces community who have started a successful new business venture more than two years ago (before January 1st, 2021) and who still retain a minimum of 50% interest in the venture.
Crimsham Farm 
Shane Glasspool and Craig Pinkney run Crimsham Farm CIC, which provides safe access to green space and therapeutic services and is now looking to register with OFSTED.
Sir Fix-a-lock
Paul Montgomery founded Sir Fix-a-lock whilst serving in the Army and by the time his military career ended, he had three years profit within the business.
Tin Trousers
Tin Trousers Limited started out providing striping up and alterations to uniforms working from married quarters – now it has the tailoring contract for HMS Excellent.
Business Community Impact Award – in partnership with Cisco
An award to honour an individual or group of individuals who have started and are still running a business, charity or social enterprise that has a made a significant positive impact on the lives of people within the Armed Forces community.
Crimsham Farm
Shane Glasspool and Craig Pinkney's Crimsham Farm provides specialist alternative support for children with Special Educational Needs and peer to peer support for veterans and families.
Helen Massy, Medical & Health Writer
Helen Massy publishes Career Pursuit, a non-profit magazine providing employment and business support to British military spouses and partners.
South Coast Commercial Cleaning Group
Simon Poland runs the highly successful South Coast Commercial Group but has still found the time to raise thousands of pounds for community projects.
Lifetime Achievement Award – in partnership with Oracle
An award to honour a person whose lifetime of dedicated service has provided a significant contribution in support of the Armed Forces Community.
Capt Carol Betteridge OBE
Captain Carol Betteridge joined the Queen Alexandra's Royal Naval Nursing Service in 1990 and was ultimately appointed as the Commanding Officer of the Hospital Regiment for Operation HERRICK 14. On her retirement in 2015 Carol became the first Veterans Clinical Advisor for Help for Heroes.
Khumi Burton
Khumi Burton was born in Manipur, India, in 1948. Supporting her community and charities has been a big part of Khumi's life both in India and in the UK, where she was appointed as Deputy Lieutenant of Greater Manchester in 2003 and the East Cheshire County Poppy Appeal Coordinator in 2013.
Reg Charles
Reg Charles served in Normandy, Belgium, The Netherlands, then in the Ardennes for the Battle of the Bulge, back into the Netherlands, into Germany for the Reischwald Forest battle, and crossed the Rhine to Hamburg just before VE Day!