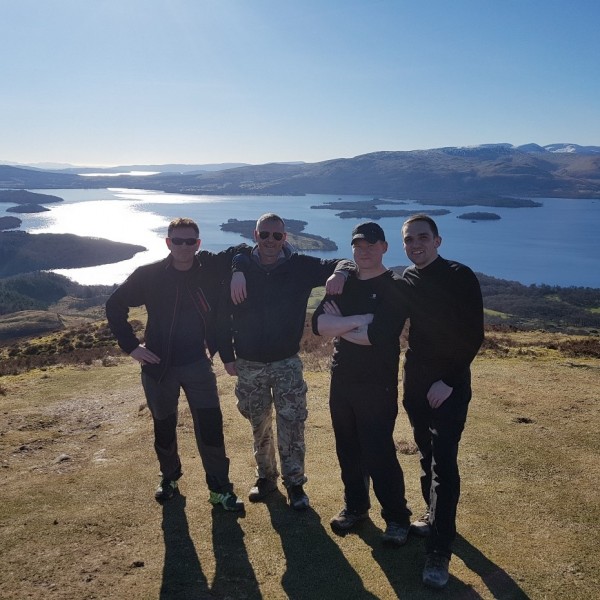 A group of 11 Royal Navy sailors from HMNB Clyde completed a gruelling 100 mile walk along the Highland Way, raising over £1,000 for the Royal Navy and Royal Marines Charity (RNRMC).
Setting out from Milngavie, just north of Glasgow, the MTE team from HMNB Clyde began their trek on Monday 19th March with the aim of completing the challenge by the Friday.
The West Highland Way passes across some of Scotland's most beautiful yet challenging landscapes. To undertake the trek, it is advised that only experienced, physically fit and fully prepared walkers take on the route.
Averaging over 20 miles a day, the team, which was led by CPO Andy 'Tommo' Thompson, faced tricky undulating terrain and a barrage of heavy rain and strong winds. However, when traversing the edge of Loch Lomond the group were fortunate to enjoy some clear weather.
The HMNB Clyde trekkers took on the challenge to raise money for Twickenham 100 – an RNRMC campaign that requires those taking part to complete a 100 themed challenge in the build-up to the annual Navy vs Army Rugby match.
All the funds raised by the team have been donated to the RNRMC. For over a decade, the RNRMC has been supporting the entire naval family, from life changing grants during times of immediate need, to smaller deployment grants that aid morale and retention, the RNRMC ensures no one is left behind.
After a challenging 100 miles, the team from HMNB Clyde completed their journey on Friday 23rd March. Speaking about the experience, CPO Andy Thompson said:
"The feeling of completing a hard walk like the West Highland Way filled the team with a sense of pride. Knowing that we were raising money for such a good charity made it all the more special."
Director of Fundraising and Marketing, Alasdair Akass, said:
"Well done to the MTE team at HMNB Clyde for completing what sounds like a tough yet incredibly rewarding challenge. The RNRMC are privileged to have such wonderful fundraisers working tirelessly up and down the county who raise funds to support our Naval Fleet. Thank you to the team for their extraordinary effort."
To learn more about how to fundraise for the RNRMC, please visit https://www.rnrmc.org.uk/fundraise-for-us or call 023 9387 1520