Walking With The Wounded has been selected as a Finalist for the 2019 Soldiering On Awards! Now in its 9th year, the awards highlight the outstanding achievements of current and former service men and women, their families and all those who support the Armed Forces Community.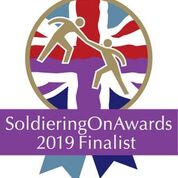 This year Walking With The Wounded has been nominated for the 'Education, Training and Development Award' which recognises excellence in the provision of education, training and skills development. WWTW programme, Project Nova (that WWTW run in partnership with RFEA The Forces Employment Charity), has also been selected as Finalist for not one, but two Soldiering On Awards!
The programme which supports veterans who have become caught up within the criminal justice system has been nominated for the 'Healthcare and Rehabilitation Award' and 'Forces in Mind Trust Working Together Award'.
WWTW is very pleased that Project Nova has been recognised for its major contributions in support of the physical and mental welfare of veterans, as well as its dedication to collaborating within the military sector.
WWTW is incredibly proud that their work for veterans has been recognised in this way. Please wish them luck!
Click here to find out more about the 2019 Soldiering On Awards.