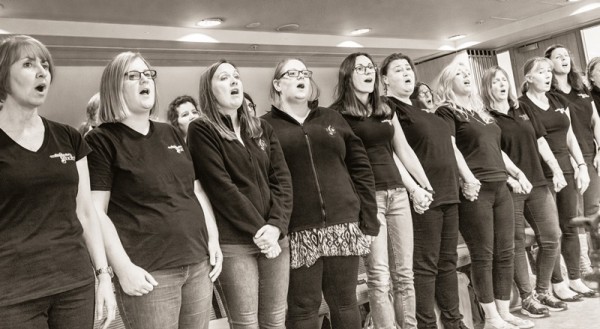 The commemorative album will feature four brand new songs written specially for the Military Wives Choirs by prestigious composers in the pop, film and classical worlds around the themes of remembrance, patriotism and military life, as well as music from past and present referencing World War 1 marching songs and iconic service marches.
Anita, a member of Colchester Military Wives Choir said:
"Most of us understand how difficult it is to say goodbye to someone in the Forces, whether the person is going to a war zone or not. It is this unique perspective which means that we can do something very powerful with music, which is a medium that speaks far louder than words.
"However, we need the support of the public if we are going to make this a reality. Please help us to remember them by visiting our Pledge Music page and preordering this incredibly important album now."
With over 70 choirs in British military bases across the UK and overseas, the Military Wives Choirs is a charity that brings women in the military community together through singing. Being part of a Military Wives Choir makes a positive difference to women's lives by improving well-being, building friendships and developing skills.
To support the Military Wives Choirs in this project, visit www.pledgemusic.com/mwc.
ENDS/
Contact for general media enquiries:
Emily Fiddy, Marketing & Fundraising Coordinator, efiddy@militarywiveschoirs.org / 020 7463 9382 – follow the Military Wives Choirs on Twitter @MWChoirs
Notes to editors
Video link included – introducing the MWC Pledge Music campaign and featuring choir members hearing the album music for the very first time: https://www.youtube.com/watch?v=E_nAv1e3ioI&t=1s
Image included – ladies from different Military Wives Choirs standing together and singing the album songs for the very first time
With over 70 choirs in British military bases across the UK and overseas, the Military Wives Choirs is a charity that brings women in the military community closer together through singing. Being part of a Military Wives Choir makes a positive difference to women's lives by improving well-being, building friendships and developing skills. For more information, visit the website: militarywiveschoirs.org