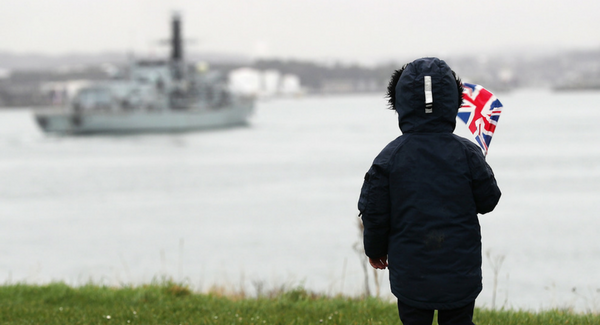 Cobseo members are invited to the launch of The Royal Navy and Royal Marines Charity's Helping Hands grant programme, a Libor-funded initiative that seeks to utilise volunteers to deliver projects that provide friendship, support and practical help to Royal Navy and Royal Marines beneficiaries.
The event follows workshops held in 2016, attended by the naval sector charities, which also identified that early intervention and prevention projects should be key funding themes for the new programme.
The event will be held at HMS Excellent, Whale Island, Portsmouth, PO2 8ER in Fisher Hall.
Outline Programme:
12.30 – 13.00 Tea, coffee and networking
13.00 – 13.45 Introduction to the fund and application process
13.45 – 14.00 Questions
14.00 – 14.30 Networking and close
Applications packs will be available from Wednesday 5 April, with the closing date for applications on the Wednesday 26 May.
Mandy Lindley, RNRMC Director of Relationships and Funding, says: "The Helping Hands model works across all beneficiary groups: older veterans, the wounded injured and sick; those in transition from military to civilian life, as well as families and dependants of those who serve today."
The programme is facilitated by Libor funding, provided by HM Treasury. Successful recipients of the Helping Hands will be required to participate in regular workshops and produce regular monitoring and evaluation reports about their projects.
Booking details: Please e-mail mygrant@rnrmc.org.uk to reserve a place, including your full name, organisation, e-mail and telephone contact no. You will need photo ID to gain entry to Whale Island.
If you are planning on traveling by car please include the make, model and registration of your vehicle when booking a place.
Helping Hands GUIDANCE NOTES 2017
Funding Framework outcomes
– ENDS – 
Notes for editors:
Overview of timing
Applications packs will be available from Wednesday 5 April.
There will be three rounds of funding (subject to demand – if sufficient good projects are submitted at the June meeting further rounds in 2017 will be cancelled)
| | |
| --- | --- |
| Closing Date | Committee  Meeting Date |
| 26 May 2017 | 29 Jun 2017 |
| 25 Aug 2017 | 27 Sep 2017 |
| 26 Oct 2017 | 23 Nov 2017 |
Applications must be submitted as follows:
It is important that the application comes with the full-backing of the organisation and a cover letter signed by the Chief Executive or equivalent to accompany the submission.
Beneficiaries
The definition of those who may be assisted is defined in the RNRMC's Memorandum of Association: Men and women who are serving or have served in the Naval Service or the Auxiliaries or the Women's Royal Naval Service, and their dependants.
Please note, we are unlikely to fund:
Projects benefitting one person
Organisational fundraising activities
Retrospective funding for projects that have already taken place
Memorials
Trading ventures
Capital expenditure (except where it is a contribution to a larger project or for a small capital item)
Research
The Royal Navy and Royal Marines Charity
The Royal Navy and Royal Marines Charity is the principal charity of the Royal Navy. It exists to support sailors, marines and their families, for life.
Since 2007 it has funded projects and facilities that boost morale for those who serve today. It also distributes millions of pounds annually to military charities who care for the children, families and veterans of the Naval Service.
For more information on The Royal Navy and Royal Marines Charity, call 023 9387 1520 or visit www.rnrmc.org.uk.
Media contact:
Chris Taylor, Media and PR Executive, Royal Navy and Royal Marines Charity, E:         chris.taylor@rnrmc.org.uk, T:         023 9387 1540, Facebook: www.facebook.com/rnrmc, Twitter: www.twitter.com/rnrmc