The FiMT Research Centre Conference 2024 on 13 May 2024 in London provides a platform for individuals from across service provision, government, and research to present topical evidence involving the Armed Forces Community.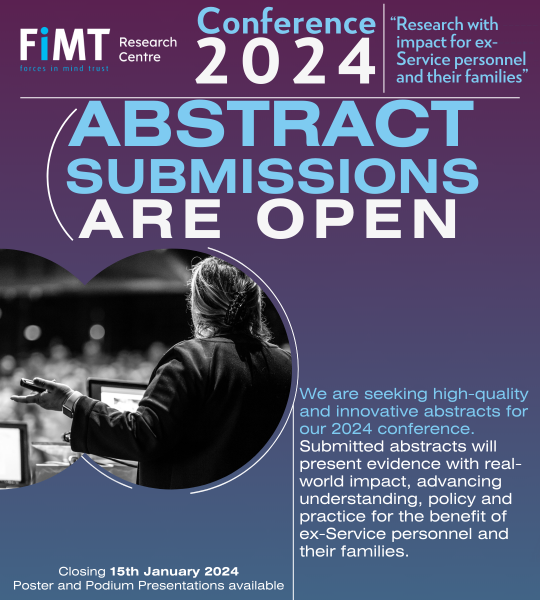 The theme for 2024 will be 'Research with impact for ex-Service personnel and their families'. In line with this, presentations on the day will highlight high-quality research with clear pathways to advance understanding, policy, and/or practice for the benefit of ex-Service personnel and their families.
The FiMT RC conference team are seeking abstract submissions in keeping with the conference theme for either poster or podium presentations at the 2024 conference and abstract submissions are now open.
Submitted research should be well-progressed, but recently completed research will also be considered, provided the subject matter is relevant to transition and the ex-Service personnel community. Submitted abstracts must also be relevant to the conference theme and demonstrate the impact of the presented evidence on advancing understanding, policy, and practice related to ex-Service personnel and transition.
To submit an abstract, the online abstract submission form can be accessed here. Closing date for Abstract Submissions is 15 January 2024
Those submitting will need to create an Oxford Abstracts account before accessing the form. Only submissions received via the online form will be considered for presentations at the FiMT RC 2024 Conference.
If you would like any further information, to discuss submitting to the conference or have any difficulties accessing or registering with the system, please contact team@fimt-rc.org.
Conference registration for delegates will be opening on 3 October 2023.
For more conference updates, follow the FiMT Research Centre Twitter and LinkedIn or head to the FiMT Research Centre Conference 2024 website.