Representatives of two British charities have returned to the UK following their first visit to Ukraine since the start of the war.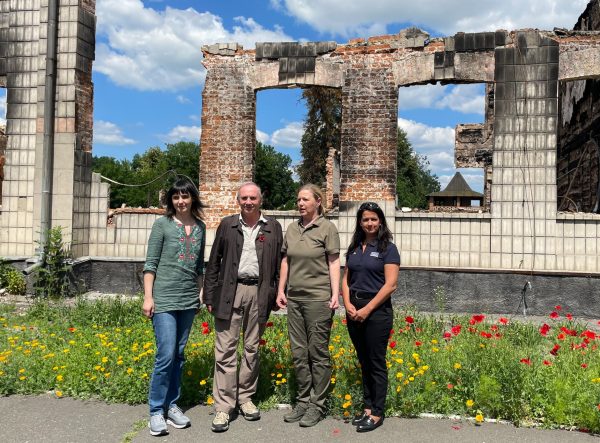 Chief Scientific Officer of BRAVO VICTOR, Professor Renata Gomes and CEO of Blind Veterans UK, Maj Gen (Rtd) Nick Caplin CB, were invited to the war-torn country to discuss the practical ways both organisations can support the people of Ukraine now and in the future.
The visit follows the signing of a Memorandum of Understanding (MOU) between Blind Veterans UK, BRAVO VICTOR, and the Ukrainian Government. Both charities have made a declaration to support Ukraine in the provision of research and sight loss rehabilitation services.
On returning, Nick Caplin said:
"Earlier this month the Charity Commission approved the required changes in our Articles of Association to allow Blind Veterans UK to respond to broader needs.  This was a significant first step and one we must now take forward with action to support the people of Ukraine." 
Reflecting on the trip, Professor Renata Gomes said,
"Having now visited Ukraine and met with officials at the request of the Ukrainian government, I am absolutely certain that our experience in this area would make a significant difference to soldiers and civilians with sight loss, visual impairment and other disabilities suffered as a result of the war"
Against a background of heavy rocket fire in Kyiv during the recent UK Armed Forces Week, the representatives joined the Minister of Veteran Affairs, Major General Yulia Laputina, and other Ministers for meetings to progress talks to build a world class holistic research and rehabilitation model combining physical and mental rehabilitation for veterans living with blindness and other impairments. The service will also support wounded civilians and their families.
The delegation visited Borodyanka and Irpin on 25 June, Armed Forces Day, with the Minister, and Deputy Minister for Veteran Affairs. Local veterans, military personnel, and families shared their stories and appreciation for the support from Blind Veterans UK and BRAVO VICTOR.
Borodyanka is home to the Ukrainian Veterans Rehabilitation Centre. The centre will require extensive re-building following military attacks in early March. Once reconstructed, it is hoped that the work carried out at the centre by BRAVO VICTOR will produce research, analysis and evidence to help understand the past, present, and future needs of veterans and those living with disabilities, while providing a unique platform for international collaboration.
Ukraine wants the world to learn from their experience. The Minister for Veteran Affairs, Yulia Laputina emphasised the importance of research.
"The Borodyanka Centre is a solution, that with the support of our foreign partners, will render help to more people soon. We must create the scientific research as an integrated part of the centre. Invite here scientists from all over the world with expertise in physiology, philosophy, anthropology, criminology, psychology, and psychiatry to research, study and document the wounds that have been inflicted on our military and civilian population. It will be a combination of a humanitarian mission and a mission of providing rehabilitation services, a truly holistic approach."
Marking Armed Forces Day, Renata Gomes, Chief Scientific Officer wrote a letter addressed to President Zelenskyy affirming the two organisations' solidarity and support for Ukrainians.  Professor Gomes said:
"One thing that has been made clear to us on this visit is the need to shift Ukrainian perceptions of living with disability. We were told that many veterans in Ukraine, would prefer to die than to survive with disability, veterans living with impairments can, and will, live fulfilling and independent lives."
Nick Caplin, CEO of Blind Veterans UK, a charity that has been providing specialist rehabilitation support to those who have lost their sight since the First World War, said:
"When we succeed, and we must, we will have given the many volunteers in the conflict the certainty that they will be well cared for by the state. Our organisations will provide the best support and expertise in dealing with a wide range of disabilities."

"Our role will be to ensure a long-lasting and self-sufficient service for the Ukrainians by building out the knowledge and capability on the ground. We will be providing training to upskill their health professionals; providing vision rehabilitation support to Ukrainian veterans and their families; and providing resources and material to assist the delivery of vision rehabilitation in Ukraine."
Professor Renata Gomes said:
"The number of people living with sight loss and other impairments in Ukraine is increasing at a staggering rate. Early intervention and the detailed understanding through research of the severity of these injuries will be key in ensuring the right level of care is delivered. As a world leader in research of ocular trauma, we will play a significant role supporting Ukraine's road to recovery.

"When the time comes, the work we do now, will serve to prepare for the healing of wounds and the restoration of a nation."
Those who wish to support and help expedite the two charities' commitment to Ukraine can get in touch on enquiries@bravovictor.org and supporter.services@blindveterans.org.uk