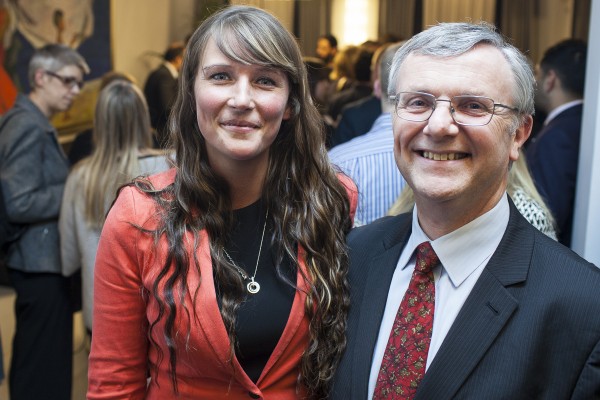 The Forces in Mind Trust (FiMT), established to help ex-Service personnel and their families make a successful transition back to civilian life, formally celebrated the achievements of their first two Specialist FiMT Fellows on Clore Social Leadership's Fellowship Programme at a dedicated event marking the end of the 2015 and 2016 Fellowships.
The event took place on 28 February 2017 at The Resolution Foundation where, after an introductory speech by Vyla Rollins, Executive Director of the London Business School's Leadership Institute, Fellows received a formal certificate of completion before enjoying the opportunity to network with other Fellows and programme funders. You can learn about our 2015 and 2016 Fellows, Jane Rowley and Marie-Louise Sharp, read Jane's personal learning summary, and find out about Marie-Louise Sharp's experiences on the programme, by following the links.
FiMT has sponsored Specialist Fellowships on Clore Social Leadership's Fellowship programme since 2015.  The purpose of FiMT's Specialist Fellowship is to encourage deeper connections and shared learning between military charities and the wider social sector to enable more innovative and collaborative working. FiMT is delighted to be sponsoring three Specialist Fellowships for the 2017 programme. These are: Vikki Muir, Executive Officer in the Grants and Welfare Team at ABF The Soldiers' Charity; Louise Simpson, the Policy and Research Director for the Army Families Federation (AFF);  and Elizabeth George, Head of Fundraising at The Poppy Factory, the employability charity for wounded, injured and sick veterans.
Air Vice-Marshal Ray Lock, Chief Executive of the Forces in Mind Trust, said: "This event is a great opportunity to celebrate the learning, achievements and experiences of both our 2015 and 2016 FiMT Specialist Fellows, and to meet some of the other Fellows who took part in the Clore Social Leadership Fellowship programme alongside them.  Our Specialist Fellows all share professionalism, drive and commitment to make the most of this leadership development opportunity, not just for the sake of their own learning but also to establish new working relationships and connections with and between others. With our three new 2017 FiMT Specialists now about to start their third month on the programme, we look forward to seeing what further insights, networks and collaborative learning opportunities the growing FiMT Specialist Fellows cohort may inspire."
Shaks Ghosh, Chief Executive of Clore Social Leadership said: "Our partnership with the Forces in Mind Trust continues to grow. Both Jane Rowley and Marie-Louise Sharp are a testament to the sector – we congratulate them and all of the 2015 and 2016 Fellows on their achievements."
Applications for FiMT's 2018 Specialist Fellowship will open in later in 2017.  Sign up to Clore Social Leadership's monthly newsletter to receive social leadership news and views, and information about our leadership development programmes:  http://cloresocialleadership.org.uk
Photograph:  Dr Marie-Louise Sharp and Chief Executive FiMT, Air Vice-Marshal Ray Lock CBE
Photo Credit: Photographer Franek Strzeszewski
ENDS
About the Forces in Mind Trust (FiMT):
FiMT came about from a partnership between the Big Lottery Fund ('the Fund'), Cobseo (The Confederation of Service Charities) and other charities and organisations.  FiMT continues the Fund's long-standing legacy of support for veterans across the UK with an endowment of £35 million awarded in 2012.  http://www.biglotteryfund.org.uk/.
The mission of FiMT is to enable ex-Service personnel and their families make a successful and sustainable transition to civilian life, and it delivers this mission by generating an evidence base that influences and underpins policy making and service delivery.
FiMT awards grants (for both responsive and commissioned work) to support its change model around 6 outcomes in the following areas: Housing; Employment; Health and wellbeing; Finance; Criminal Justice System; and Relationships.
All work is published in open access and hosted on the Veterans' Research Hub.  A high standard of reportage is demanded of all grant holders so as to provide a credible evidence base from which better informed decisions can be made.
Useful links
and who we have supported so far: http://www.fim-trust.org/who-we-have-helped/
About Clore Social Leadership:
Clore Social Leadership is committed to social change. We find and develop leaders with a social purpose so that they can transform their organisations and the world around them. We offer a Fellowship programme, Clore6: Youth Sector Leadership Programme and a range of leadership development short courses.
For more information, please visit www.cloresocialleadership.org.uk and join the conversation on Twitter @CloreSocial.