Charity Number: 1157531
Company Number: 7192349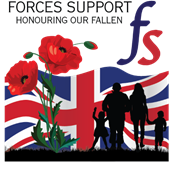 Our purpose is to provide practical support to improve the quality of life for bereaved military family members – parents, partners and children. We also contribute to the provision of good quality, affordable and sustainable accommodation through partnerships with housing associations for ex-service personnel, so they can build new and rewarding lives when their service careers finish.
Contact Information
14 Church green
Witney
OX28 4AW

01993 848244
Support Offered
We offer hands-on support including garden maintenance, painting and decorating and other DIY services based on requests made by bereaved families. To date we have completed nearly 600 projects in the UK. We have supplied 300+ remembrance benches and fire pits as well as hundreds of remembrance cards to families to ensure they do not feel forgotten, and personalised memory books. We have also commissioned 10 personal portraits of fallen soldiers.
In support of veterans we are currently working alongside Broughton House based in Manchester to provide funding to expand their Armed Forces Support Hub. This is a one-stop shop that provides tailored advice and support for health, housing, welfare, social and employment issues. We are also working with Haig Housing Trust on various projects. One example is funded scooter shelters for veteran homes in Moredon.